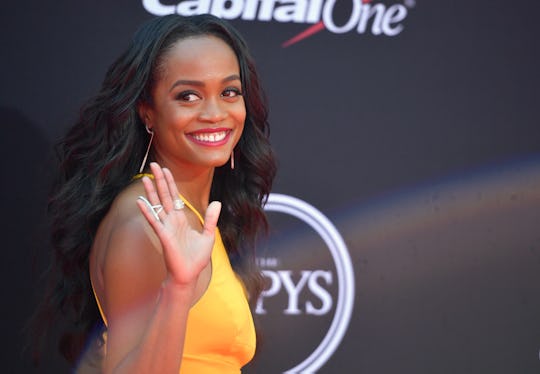 Matt Winkelmeyer/Getty Images Entertainment/Getty Images
The Guys Have To Impress Rachel Lindsay's Sister Constance This Week
Last season, Rachel Lindsay took Nick Viall home to Dallas to meet her family, where her mom and sister grilled him about whether he could handle a biracial relationship. This summer, Rachel Lindsay's sister, Constance, steals the spotlight yet again on The Bachelorette. And her older sister is not amused with this whole process. Lindsay told ABC that her family knew what to expect, but they are even "more skeptical" this time around.
Constance is the older sister than Rachel talked about on her one-on-one date with Bryan earlier this season. Lindsay said that her sister was the "pretty one" and that she was always the "cool one." She also really looks up to her and wants to impress her sister in a way that only a younger sister can.
Constance, who is married to Alex, is pretty private on social media, so Bachelor Nation probably won't be able to find out too much about her. But all they really need to know is that she's helping her sister grill these prospective suitors. But according to some internet sleuthing, she's has two kids. And just like Rachel, is very accomplished. Constance has a doctorate in Human Development and Social Policy from Northwestern University and she's now a lecturer at the School of Public Affairs at American University.
Sounds like a good judge of character. Rachel seems to think so, at least.
Lindsay said that she was a little worried for her dates. She said of her oldest sister:
She's protective, she's a tough critic and I knew that she would come in there guns a-blazing as she met each man. I knew she was gonna have her questions and her concerns and she wasn't going to let anything they did or said slide.
During Bryan's hometown date, Constance tells him that he's too "smooth" and seems to have some problems with him. Rachel said she had similar issues with the other guys, too. "It was just important to me to let her know that, 'Listen, I'm not an idiot. I saw the same thing that you saw and you should know that I worked my way through it,'" Rachel said of her sister's opinion. Sounds like classic sisterhood, right?
But fans will be happy to hear that Rachel is in a relationship with one of the guys she brought home this season. She said that they're still in "hiding" for the show, so her sister and family hasn't gotten to know him too much better, but they're coming around.
Fans will just have to sit tight and wait to see which one passed the Constance-test.