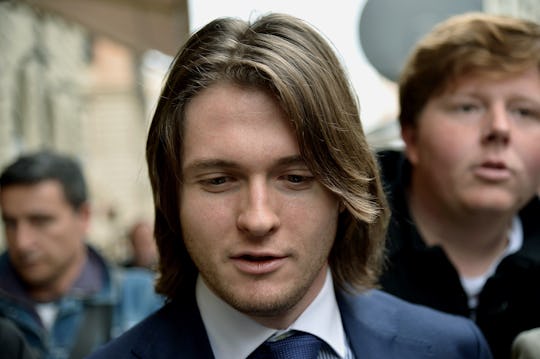 ALBERTO PIZZOLI/AFP/Getty Images
Who Is Raffaele Sollecito? He's An Important Part Of The Amanda Knox Trial
Though Amanda Knox is the name most associated with the murder of Meredith Kercher and the ensuing years-long trial, she wasn't the only person arrested for the crime. A few other potential suspects were floating around in the early days, among them Knox's boss at a local bar, Diya "Patrick" Lumumba, who was falsely implicated by Knox during an interrogation by the police. There was also Rudy Guede, a friend to Knox and Kercher's downstairs neighbors who was linked to the murder by DNA, convicted of it, and is currently serving time for it. There was also Raffaele Sollecito. But who is Raffaele Sollecito?
Sollecito was Knox's boyfriend at the time of the murder, though they had only been dating for a short time (they met just over one week before the murder). Sollecito was a student about to finish his computer science degree at Perugia University, which was something he eventually completed while in prison, when he met Knox at a concert, according to BBC. Their connection was reportedly very strong from the start; Knox quickly began to spend most of her time at Sollecito's apartment. She maintains that she was there the night Kercher was killed, though Sollecito was not entirely certain of the timeline. He said they had both smoked pot that night and his memory of the events was hazy. However, he has affirmed many times that he believes Knox to be innocent.
Both Knox and Sollecito were criticized for their behavior following Kercher's murder: they were seen kissing, cuddling, and shopping for lingerie. There wasn't much evidence to connect them to the crime, and what evidence there was was highly contested. Knox's DNA was found on a knife believed to be the murder weapon, but its blade was also too long to have caused her knife wounds. Sollecito's DNA was allegedly found on the clasp of Kercher's bra, but it was believed the evidence was contaminated because it had not been collected until weeks after the crime. Despite this, Sollecito and Knox were convicted and sentenced to over 20 years in prison each. The conviction was overturned, but then the case was retried and they were convicted again. Then it was overturned again.
At times, I realize that I do not yet feel a complete sense of freedom. I was trapped in this for so long that now I won't be able to switch back to how my life was before. Part of me will never be the same. Part of me is destroyed.
Now both Sollecito and Knox are living separate lives with new partners. Though there does not appear to be any ill-will between them, Sollecito is ready to move on with his life. "I no longer want to be known as 'Amanda Knox's former Italian boyfriend,'" he said in an interview with People last year. "I want to be known for something else than being connected by the prosecutors to a gruesome murder in which I had no part. I prefer to be known as Raffaele Sollecito, the guy who faced all of this and came through at the other end."
After his legal woes were over, Sollecito expressed a desire to become a game developer and do some traveling – to find a way to return to his normal life, if he could. He has recently sought compensation for wrongful imprisonment and began to develop a website that would act as a social media network for people to create profiles for deceased friends and order graveside services. Which is...totally not at all morbid.