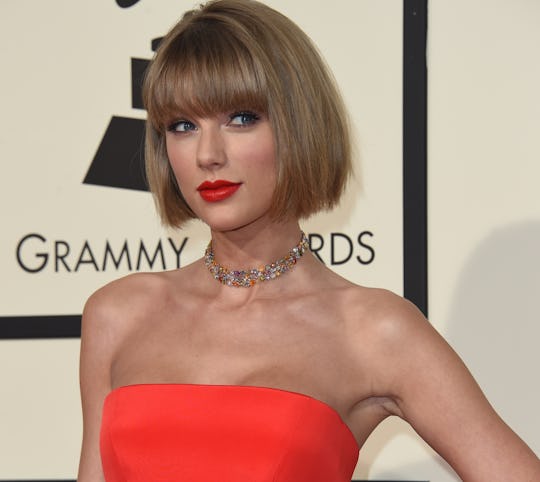 VALERIE MACON/AFP/Getty Images
Taylor Swift's "Ready For It" May Be All About This One Person
Taylor Swift released another new song from the coming album Reputation early on Sunday morning, sending Swifties into a tizzy. Why? Well, as many media reports and fan reviews have suggested, "... Ready For It" is possibly all about Swift's reported relationship with British actor Joe Alwyn and the love between the two of them. Unlike "Look What You Made Me Do" — the first song to be released from her sixth studio album — no shade is thrown in "... Ready For It." In fact, it's actually quite the opposite.
The news of Swift's secret relationship with Alwyn was first reported by The Sun in May. Swift reportedly spent a good deal of time in London this year, renting a house there while she saw her beau. According to an inside source, cited by The Sun, the two worked hard to keep their relationship out of the tabloids. While in the United Kingdom, Swift was reportedly walking around wearing a wig and hiding in plain sight. A source told The Sun:
Taylor has flown in via private jets and her security has made it a military-like mission to prevent her from being seen ... After what happened with Tom Hiddleston, they were determined to keep it quiet.
Despite all of the secrecy, it appears that the two are involved in more than just a casual fling. The same source that provided the details of the escapades abroad also added, "Taylor and Joe are the real deal, this is a very serious relationship," according to The Sun. The seriousness of their relationship shines through her new song.
Taking a step further, the website Genius composed a full list of references to Alwyn hidden in "... Ready For It" — making it painfully obvious that the song is all about him.
One example: "Knew he was a killer / First time that I saw him." As Genius pointed out, Swift was photographed in November of last year leaving the screening of one of Alwyn's films, Billy Lynn's Long Halftime Walk. And these words are specifically symbolic because Alwyn plays an actual killer named Private Billy Lynn in the film.
Other references involve some of Swift's past song lyrics, alluding to the idea that the old Taylor is dead, and her skewed reputation as a "serial dater."
Now that the proverbial cat is out of the bag for Swift and Alwyn and it appears that she has shared her love for him in song, let's all strap in and celebrate the new Taylor's return to the dating game. And maybe this time, the world will cut her a little slack.