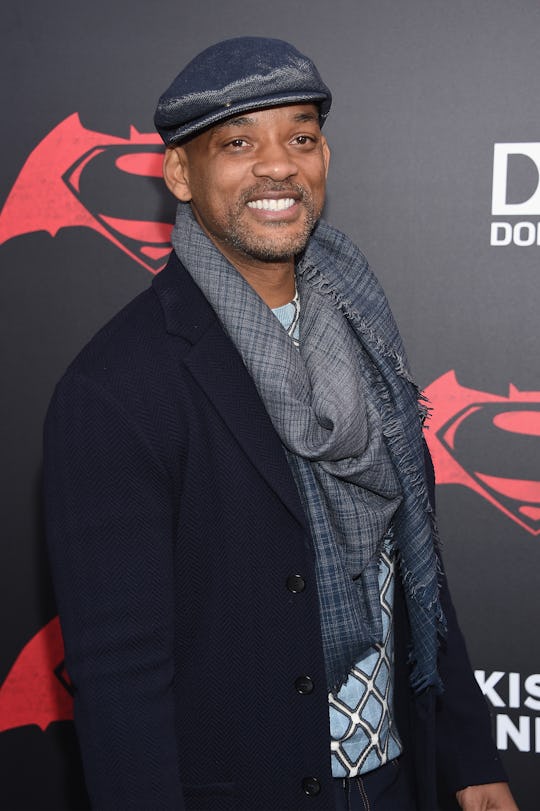 Dimitrios Kambouris/Getty Images Entertainment/Getty Images
Who Is Receiving The Generation Award At The MTV Movie Awards? Will Smith Is Long Overdue
Every year the MTV Movie Awards honors an actor with the Generation Award, acknowledging their overwhelming talent and long standing career in the movie business. Last year the award went to Iron Man (Robert Downey, Jr.), a well-earned trophy for his mantle. But, who is receiving the Generation Award at the 2016 MTV Movie Awards? This year it's going to be given to The Fresh Prince himself.
Back in the day Smith started out as a rapper in Philadelphia and then starred in The Fresh Prince of Bel-Air, the show with possibly the catchiest theme song of all time (which we are sure to hear come Sunday night, right?). While starring on The Fresh Prince, Smith jump started his movie career with a starring role in Bad Boys, one of the first cop action/comedy films, alongside comedian Martin Lawrence. Bad Boys set the foundation for so many other films in the genre such as Ride Along, 21 Jump Street, and most recently Central Intelligence, which stars MTV Movie Awards hosts Dwayne "The Rock" Johnson and Kevin Hart.
Smith then went on to dominate the '90s film scene, starring in Men In Black, which according to Variety, is being rebooted as a crossover film with the Jump Street films. Smith also starred in Independence Day, which has a sequel due out this year, Enemy of the State, and the Wild Wild West.
After that, Will Smith took over, starring in movies left and right, doing at least one film every year. In 2002, he played professional boxer, Muhammad Ali in the biographical film Ali, and earned his first Oscar nomination for the role. He then reprised two of his first roles in Men in Black II and Bad Boys II before going on to star in I, Robot, alongside Shia Labeouf, and providing his voice in the animated film Shark Tale.
Smith then starred in Hitch, one of the greatest rom-coms of all time in my opinion. Never forget when Smith attempted to teach co-star Kevin James how to kiss and dance. Good times. Smith then got his second Oscar nomination for his role in the biographical film The Pursuit of Happyness. Seriously, Academy, how did he not win the Oscar for that?
Since then Smith has starred in so many movies it's amazing he has any free time at all. Later this year, we'll see Smith back on the big screen in Suicide Squad, and then next year Smith will star along Martin Lawrence in Bad Boys 3 (followed by Bad Boys 4). It seems Smith has no intention of slowing down, and he'll continue to grace the big screen as long as he can.
Will Smith will receive the Generation Award Sunday, April 10 at the MTV Movie Awards on MTV.