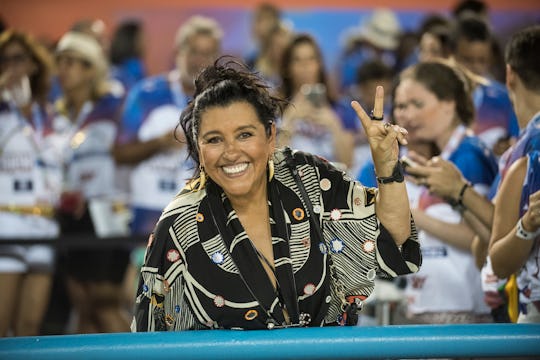 Raphael Dias/Getty Images Entertainment/Getty Images
Who Is Regina Casé? The Rio Opening Ceremony Personality Is A Household Name In Brazil
The 2016 Rio Olympics are well on their way, and Brazil is waving their prise and showcasing some of the country's more famous natives. One in particular is television personality Regina Casé. But, who is Regina Casé at the Rio opening ceremony?
Casé wears many hats. According to Awards Daily, Casé is a television personality, actress, comedian, and director. She's been in dozens of films and television shows, and has won several awards for her work in Brazil and Latin America. The AP reported that Casé was on the floor at Maracaña Stadium, where the opening ceremony is held, where she was teaching fans in the stands what their role during the ceremony would be. She said, "Here in Brazil, we like to party ... and we believe the people are made to shine." She reminded the crowd that they will literally shine as well, as the only light from the stadium would come from their cellphones.
Casé, known as the "queen of diversity" in Brazil, was eager to play a part in the ceremony, and posted about the experience on her Instagram every step of the way. According to Yahoo Sport, Casé was responsible for exciting the crowd, and from her personality in her posts, she probably did a great job.
According to her IMDB, Casé has been in The Second Mother, Made in China, Rio I Love You, Divertics, a TV series called Sound & Fury, and many, many other projects. Basically, she's not new to the spotlight, and she is incredibly well-deserving to be apart of the opening ceremony on this fine Olympic Friday.
Plus, Casé is just as excited to be apart of the ceremony as fans are to have her. She tweeted day of a very enthusiastic tweet with the official hashtag of the Olympics.
It's clear that Casé is proud to be Brazilian, and ecstatic that she is a part of this year's Olympics. While she was talking to the crowd, she was also teaching them the theme song – and was featured in a video that went along with the song. Perhaps after the ceremony, Casé will be known more stateside as well.