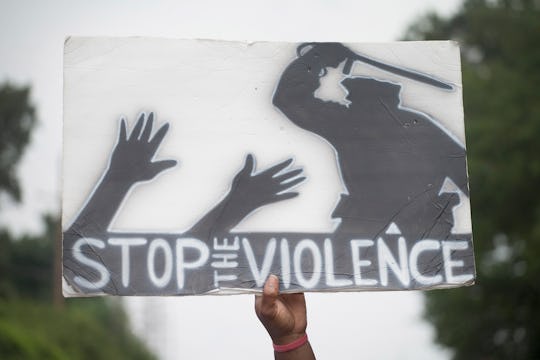 Scott Olson/Getty Images News/Getty Images
Who Is Renee Davis? The Native Woman's Death Has Sparked New Protests
Renee Davis was reportedly five months pregnant when she was shot and killed by King County sheriff's deputies on Friday evening in Washington. She was a 23-year-old mother of three, and a woman who reportedly struggled with depression. But who is Renee Davis, really? Davis, who was of Native American heritage, lost her life at the hands of police at her home on tribal lands on the Muckleshoot Reservation. Say her name.
According to The Seattle Times, Davis' foster sister, Danielle Bargala, revealed that Davis had texted someone earlier on Friday to say that she was not doing well, and was in "a bad way." That person apparently contacted law enforcement, for Davis' well-being, which led authorities to the woman's home, The Seattle Times reported. A short while later, Davis was shot and killed by the deputies. Now, her family is looking for answers.
A spokesperson for the King County sheriff's office sent a statement to Romper on Monday, regarding the fatal shooting. According to authorities, deputies arrived to Davis' home following reports of a suicidal woman on the Muckleshoot Reservation, armed with a gun, and with two small children:
Deputies knocked on the door to the residence repeatedly with no response. Deputies said the children were running around in the house but no one answered the door. Two deputies entered the house to check the welfare of the woman and children. They found the woman inside the house armed with a handgun. Both deputies fired at the woman and she was struck at least once. Aid responded and the woman, 23, was pronounced dead at the scene.
But as Bargala somberly noted to The Seattle Times, Davis' shooting death was a result of, what should have been, a "wellness check."
"It's really upsetting because it was a wellness check," Bargala said "Obviously, she didn't come out of it well."
Bargala told The Seattle Times that she wasn't aware of whether her sister owned a handgun, as the sheriff department reported – though she noted Davis did reportedly have a hunting rifle. Bargala, who grew up with Davis in a family of seven children on the reservation, described her sister as nonviolent and as "a soft person," The Seattle Times reported. Davis' three children are 5, 3, and 2 years old. Her two younger children were reportedly home at the time of the shooting – the oldest was with a family friend, Bargala noted.
Police violence continues to be a necessary conversation. As the nation addresses racial disparities in police shootings and brutality, Davis' death is yet another reminder at the disproportionate number of police violence towards Native Americans. In July last year, Mother Jones, citing a report by the Center on Juvenile and Criminal Justice, found that Native Americans make up 0.8 percent of the population, but constitute 1.9 percent of police killings.
It's a troubling statistic that needs attention. And people have taken to Twitter, using the hashtag #NativeLivesMatter, to express outrage over Davis' death, and the ongoing violence towards Native Americans:
Bargala told the The Seattle Times that Davis' children are staying with relatives for the time being. The two deputies involved in the shooting have been placed on administrative leave, according to the department's statement.
Davis' death is horrifying. She was an employee with the Muckleshoot Early Learning Academy, and the academy has since released the following statement on Facebook in honor of Davis:
Our MELA family is deeply saddened by the loss of our teammate, MELA parent, and friend, Renee Davis. She was an amazing addition to our team and this loss hurts us immeasurably.
To ensure consistency for our MELA students, we will be open tomorrow with grief counselors available for staff and parents starting at 8:00am.
Prayers of strength, love, and comfort to all of those affected by this loss.
Please help us reach as many MELA families as possible by sharing this post.