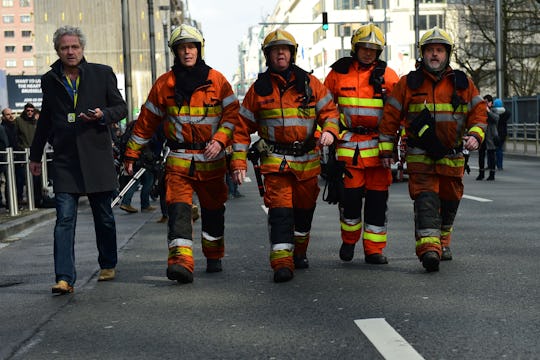 EMMANUEL DUNAND/AFP/Getty Images
Who Is Responsible For The Brussels Attack? Authorities Are Already Calling It A Suicide Bombing
At least three explosions tore through the heart of Brussels early Tuesday morning, leaving nearly two dozen people dead and more than 35 injured in what local officials are already calling suicide bombings. According to several news organizations, two explosions rocked the city's main airport and a third hit a Belgium subway station near the suburb of Maalbeek. And while authorities are scrambling for to identify who was responsible for the Brussels attack, Belgian officials have begun describing two airport bombings, at least, as a suicide attack.
Update: Late Tuesday morning, the Islamic State claimed responsibility for the Brussels bombings in a statement posted to one of its propaganda outlets, according to The Independent. Additionally, on Wednesday morning, The New York Times reported that brothers Khalid el-Bakraoui and Ibrahim el-Bakraoui helped carry out the attacks. The Times reported that at least one of them died in the attacks on Tuesday. Police were still seeking a third suspect, Najim Laachraoui, on Wednesday, whom they say had ties to the Paris attacks.
The blasts put the Belgian capital in essentially a lockdown on Tuesday morning: all flights through the Brussels airport were shut down, according to its official Twitter feed, and CNN reported that metro stations had been closed by local transportation officials. Though no links to terrorism have so far been established, CNN also reported that Belgian authorities have raised the security threat level to its highest — level four — in order to deploy soldiers and anti-terrorism resources within the city.
The New York Times reported heightened security concerns from officials across Western Europe over the possibility of increased threats after the arrest of Selah Abdeslam in Belgium last week. Abdeslam is believed to be behind the Nov. 13 terror attacks in Paris that killed more than 130 people. [UPDATED] While no terror groups had come forward to claim responsibility for the Brussels bombings in the hours following the Tuesday morning explosions, by late Tuesday morning ISIS supporters claimed to be behind the assaults.
At a news conference minutes after the bombings, Belgian Prime Minister Charles Michel said authorities were concerned that more attacks might follow the subway and airport explosions. In a statement reported by the Washington Times, Michel urged Belgian citizens to "be calm and show solidarity" in what he called "a tragic moment" for the entire country. Michel also took to Twitter to urge people to stay out of harm's way: "For the moment, we ask all people to avoid movement."
As of Tuesday, investigating authorities in Belgium were already beginning to draw some conclusions about possible motives for the bombings. Speaking at that same news conference, Belgian federal prosecutor Frederic Van Leeuw said that all three attacks were the work of terrorists. Van Leeuw added that at least "one attack was probably done by a suicide bomber."
According to the New York Times, the French and British governments will convene emergency meetings to assess the evidence gathered in the attacks and discuss the overall situation in Belgium.