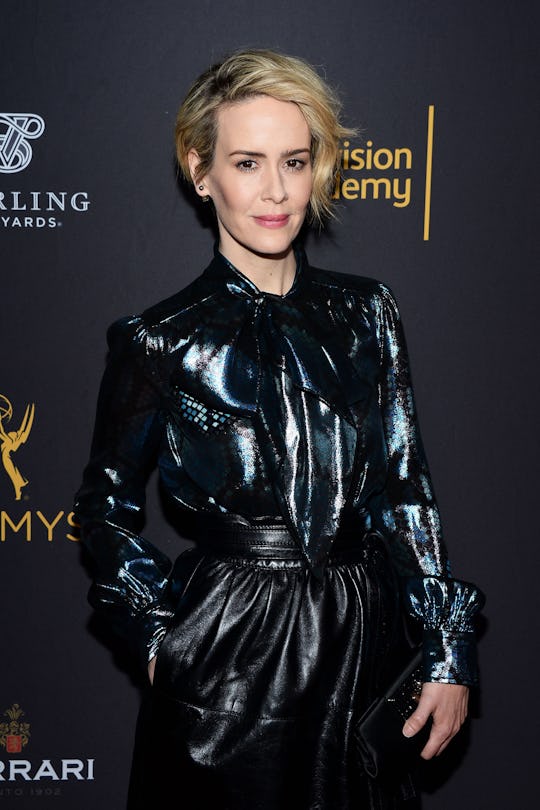 Matt Winkelmeyer/Getty Images Entertainment/Getty Images
Who Is Returning To 'American Horror Story' Season 6? This Isn't A Mystery
Though American Horror Story is set to return to TV screens soon, there is still so much fans don't know about the upcoming season. Season 6 premieres on September 14, but the series is keeping its premise a secret for now. FX has released a dozen conflicting promos that depict all the different possibilities for the season, and the only thing they share is a high creep factor. Unfortunately, clues are minimal. While so much of the new season has been left uncertain (with theme, setting, and characters unknown), there are a few things that can be confirmed. Casting is one thing that hasn't been kept completely under wraps, so at least you can reassure yourself that your favorite actor may be back – even if you have no idea in what capacity that might be. So who is returning to American Horror Story Season 6?
It looks like most of the primary cast from AHS: Hotel will be back, though Season 6 will be very different than the season that came before it. The episode order is shorter (going from twelve or thirteen episodes to ten) and the cast is reportedly smaller, with the season as a whole going for less of an expansive, opulent vibe. The size of anyone's roles is unknown, however, so even if an actor is confirmed that's no guarantee that you'll be seeing as much of them as you did in Season 5.
Showrunner Ryan Murphy confirmed the following returning cast members at Paleyfest in March: Finn Wittrock, Wes Bentley, Denis O'Hare, Kathy Bates, and Matt Bomer. Both Lady Gaga and Cheyenne Jackson were confirmed to return via Twitter, though considering Lady Gaga is also hard at work on a new album, it's uncertain whether her role in Season 6 will take up as much time as Season 5's Countess. Leslie Jordan will also be back after having skipped out on Freak Show and Hotel. Longtime AHS cast member Evan Peters will return as well, thankfully; he's been on the show since the beginning, so it would be disappointing if he didn't make an appearance.
Angela Bassett was the first to say she'd be back, and also mentioned that she'd be working closely with Sarah Paulson's character, so it looks like Paulson will be back too (these two actresses working together is a combination I can't wait to see, personally). Bassett will also be the show's first female director this year. Just let that marinate for a minute: it's great news, but it took six years for this show to hire a female director.
There are rumors that Emma Roberts and Taissa Farmiga might be back, too. Roberts was originally supposed to appear in Hotel but her schedule was too packed for her to find the time; meanwhile, Farmiga has been spotted with one of the show's writers, leading people to believe that may mean she'll have a part in the season. However, both actresses are unconfirmed.
It certainly doesn't sound like AHS Season 6 will have a smaller cast with all those names in the running, but however the new season plays out, it'll be good to have so many members of that great cast back.