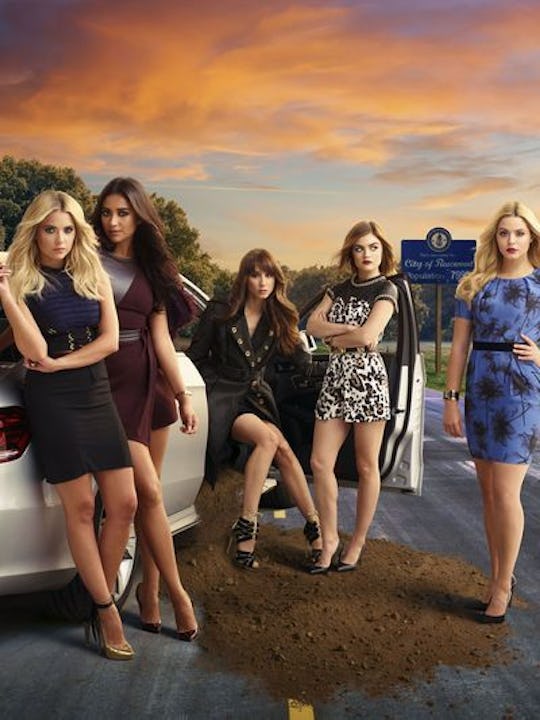 Freeform
Who Is Returning To 'Pretty Little Liars' 7B? There May Be Some More Surprises
When it comes to Pretty Little Liars, characters come and go with each passing season. It's like Rosewood is a revolving door and people are constantly disappearing, dying, or just leaving (as they should). It's no wonder then why fans are already wondering who will be returning for Pretty Little Liars Season 7B. It's already been revealed there will be some characters coming back to town that haven't been in Rosewood for a while and some of our old favorites as well that are always around.
As to be expected Aria (Lucy Hale), Hanna (Ashley Benson), Spencer (Troian Bellisario), Emily (Shay Mitchell), and Alison (Sasha Pieterse) will all be returning for 7B. Benson and Mitchell love to Snapchat from their night shoots and all of them have appeared on set together as they continue to film for the second half of Season 7. Additionally, The Hollywood Reporter confirmed in August that Julian Morris, who plays Wren, will be returning to Rosewood for Season 7B. It's unclear who's side Wren's really on but many fans believe he's related to Archer somehow since they're both British. Whatever the case will be having Wren back in Rosewood will definitely shake things up for the second half of the season.
In addition to Wren, there will be a few other blasts from the past popping up in Season 7B. Aria's fake boyfriend, Holden Strauss (Shane Coffey), will also be returning although it's unclear why since we haven't seen him since Season 3. While Aria's dealing with the return of her fake boyfriend, Hanna's mom, Ashley (Laura Leighton), will be dealing with the return of her very real former fiancé, Pastor Ted (Ed Kerr). We haven't seen Pastor Ted since Season 5 and there's no telling why he's coming back to Rosewood or what he wants from Ashley. Maybe a rekindling of their relationship is in order?
It seems the Liars will have a lot to deal with in Season 7B on top of everything else they're already currently dealing with. Hopefully not all of these returners are out to get the Liars and maybe some of them are actually on the Liars' side. One can dream.