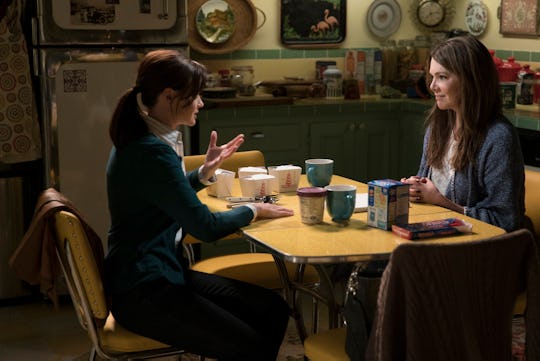 Saeed Adyani/Netflix
Who Is Returning To The 'Gilmore Girls' Revival? Almost All The Favorites Are Back
The excitement for the upcoming Gilmore Girls revival is palpable. It's a show that meant so much to so many people, and the fact that it ended with a fizzle while not under the control of its creator Amy Sherman-Palladino left tons of fans feeling unsatisfied by the series finale. Thankfully our current nostalgia culture of reboots and remakes can produce as many gems as duds, because it can be immensely comforting to revisit those things you used to love and see them take on new life. And with a cast of characters as colorful and beloved as this show, one of the most important questions involves just who is returning to Gilmore Girls and which old favorites you can look forward to seeing again.
The set of Gilmore Girls definitely seems like it was a fun one, because so many actors from the show are happy to be back. The show being as great an experience to make as it was to watch definitely added to the fun (no one wants to watch a show where all the actors were miserable, do they?) and has a ton of people returning to play their old characters one more time. In fact, there are at least thirty-seven characters coming back for those four new episodes, in addition to any new characters and cameos.
Lorelai, Rory, & Emily
It wouldn't be Gilmore Girls without the titular Gilmore girls, so of course all three generations of Gilmore women will be back.
Sookie & Jackson
For a while there, it looked like megastar Melissa McCarthy wouldn't be returning to the show that gave her her start, but thankfully the details were ironed out and she'll be back alongside TV husband Jackson.
Paris & Doyle
Paris is perhaps the character yours truly is most excited to see again, especially now that she'll be rocking Bonnie's super cute How to Get Away With Murder haircut. Whether or not she's still with Doyle, they'll both be returning.
The Boyfriends
It looks like each and every one of Rory's exes will be back as the show takes a tour through Boyfriends of Days Past. Lorelai's former (current?) love interests Luke and Christopher will be in attendance as well, though it looks like neither Digger nor Max made the cut.
The Townies
The Stars Hollow townies are part of what made the show what it is, and it wouldn't be Gilmore Girls without them. There is a long list of returning townies, so get ready: Kirk, Taylor, Babette, Morey, Miss Patty, Gypsy, Andrew, Reverend Skinner, Bootsy, Sophie (Carol King!), the Town Troubadour, Caesar, and Tom will all be returning. I don't remember all of these people but I am nevertheless glad each and every one of them is back. Does Michel count as a townie? Either way, he's back too.
Hep Alien
Though the status of bestie Lane Kim's band is up in the air, almost all of the founding members will be back. Zack, Gil, and Brian are all returning, and Mrs. Kim, though not a band mate, will be back in full force too. Is it too much to hope for that Adam Brody's Dave might swoop in last minute and sweep Lane off her feet? Sigh, probably. #StillBitter
Paul Anka
Lorelai's pup is still going strong, though according to Lauren Graham he's now fourteen years old and a little hard of hearing.
Who?
In "I didn't ask for this but I'm also not mad about it" news, apparently Headmaster Charleston and harpist Drella slash costumer Miss Celine (both played by Alex Borstein) will be returning.
Huntzberger & Associates
If you missed the Life and Death Brigade, then you're in luck because you'll be seeing Finn, Colin, and Robert's (who?) faces again. Logan's father Mitchum will also be returning, so it looks like there'll be a good dose of Huntzberger in the revival, for the people who are into that sort of thing.
I'm Sorry About It, Too
April is one doodle that can't be undid, homeskillet (to quote Oscar-winning screenplay Juno) and Luke's daughter will indeed be back to do...something, probably. Maybe it won't be awful. You never know! However, not every member of Luke's family is returning; it doesn't look like his sister Liz or April's mother Anna will be back. Small miracles?
If you're missing someone from the cast and it doesn't look like they'll be back, try and console yourself – there's a lot to look forward to with this show.