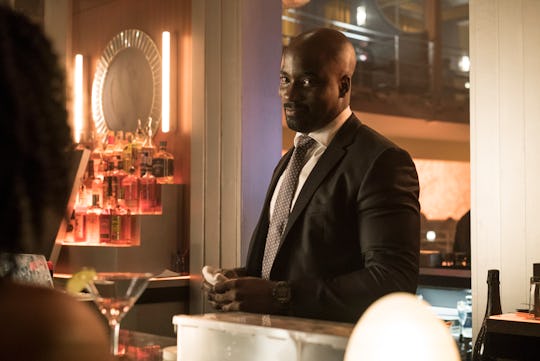 Myles Aronowitz/Netflix
Who Is Reva On 'Luke Cage'? She Is A Crucial Part Of The Netflix Show
Luke Cage, the newest collaboration between Netflix and Marvel, has the benefit of having already introduced its title character. When Luke showed up in Jessica Jones it allowed fans to become familiar with him, and gave them a baseline of knowledge that has come in handy now that he's the lead of his own series. While having seen Jessica Jones isn't necessary for tuning in to Luke Cage (though it is recommended!), there are some background details about Luke you might have missed if you skipped out on it. It's clear when Reva comes up in Luke Cage that the show is expecting the audience to know who she is, but if you didn't watch Jessica Jones you might be wondering: who is Reva on Netflix's Luke Cage?
Even in just a few brief mentions during Episode 1 of Luke Cage, it's clear that Reva is a character who is never far from Luke's thoughts. Reva Connors was Luke's wife who was killed because of insider information she had on Jessica Jones' villain Kilgrave. Jessica killed her under Kilgrave's orders, though Luke thought Reva died in a bus accident. The worst was still to come, though: Jessica went on to fall for Luke and get involved with him while keeping the details of Reva's death secret for way too long. It was what splintered Luke and Jessica's relationship, and it's sure to be something that continues to weigh heavily on Luke's mind. Even on Jessica Jones he was far from over Reva's death.
Luke having his own series will allow for his relationship with Reva to be filled in a little bit more. She's hugely important to him and his story, so understanding who she is and what she meant to him is necessary for understanding Luke as a character. There is a lot the audience doesn't know about her, like why she had information on Kilgrave in the first place or what she was planning on doing with it.
In the comics, Reva isn't Luke's wife but she's still a big part of his story. Luke and Reva were caught up in a love triangle with Luke's childhood best friend, Willis "Diamondback" Stryker. When Reva leaves Willis for Luke, Willis has Luke framed and sent to prison. However, Willis' plan also resulted in Reva's death, giving her a much shorter lifespan in the comics but a similarly tragic fate.
That storyline has been adjusted for its TV adaptation, and will hopefully allow for more depth in both Reva's character and her relationship with Luke. His story can't really be told without telling hers, too.