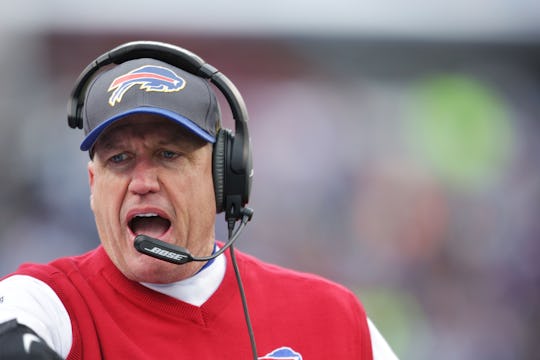 Brett Carlsen/Getty Images Sport/Getty Images
Who Is Rex Ryan? The NFL Coach Just Backed Donald Trump
In only seven months the 2016 race for the White House will be finalized, but until then the fight continues with candidates campaigning for support from the general electorate and some pretty public figures. Republican presidential candidate Donald Trump has dominated the headlines with his outlandish proposals and has gained the support from Hollywood celebs like Charlie Sheen, Tim Allen, and Vince Vaughn. Now, the billionaire has a bit more support — NFL Buffalo Bills head coach Rex Ryan will introduce Trump at his rally at Buffalo's First Niagara Center on Monday night. Trump currently leads the polls, so while he may not need Ryan's help to get ahead on the eve of New York's Tuesday primary, Ryan's support can't hurt his chances upstate. So, who is Rex Ryan and why his relationship with Trump so messy?
Ryan didn't exactly endorse Trump, but his introduction certainly has the same effect for the frontrunner for the Republican presidential nomination. Instead, Ryan said he was completely behind New Jersey Governor Chris Christie, who has since exited the presidential race. Ryan has referred to himself and Christie as "the Lap-Band of brothers," because they both have had the weight-loss procedure.
"I'm gonna introduce him, that's a true statement," Ryan said at a news conference on Monday. "But I'm not gonna say who my endorsement is and all that stuff.
So, while Trump wasn't Ryan's first choice, he did publicly endorse Republican Mitt Romney when he was coaching the Jets in 2012. Romney has spoken out against Trump, especially in the wake of Trump refusing to disavow the endorsement of David Duke, the former leader of the Ku Klux Klan, in an interview with CNN. (Trump later blamed his vague answers on a faulty earpiece.) Romney later denounced Trump, calling him a "fraud" and "phony".
Two years ago Trump made a run at buying the Bills, vowing to keep the team in his home state of New York. He lost to Sabres owners Terry and Kim Pegula and didn't hold back how he felt about the defeat.
Trump has come under fire in the football world previously for comments he made about NFL officiating. During the playoffs in January, Trump claimed that "NFL referees throw flags to impress their wives watching at home", according to Jenna Johnson of The Washington Post. "It has become soft, and our country has become soft," Trump reportedly said.
It's well known Trump is no stranger to controversial stances and rarely holds back his opinions regarding immigration, criticizing other candidates, or even torture tactics, so it's not exactly surprising that he has thoughts on how the NFL should run things.
Ryan's perceived endorsement at Monday's rally might help Trump upstate, but city folks might still not be feeling love for Trump: Back in January, Trump tweeted that the Jets in NYC would've made the playoffs if owner Woody Johnson endorsed him instead of Jeb Bush.
Following Rex's announcement this week, the Bills stated that the the team did not endorse political candidates. "It is a personal decision by Rex to introduce Donald Trump at this evening's rally," the team wrote, according to ESPN. "The Bills organization does not endorse political candidates, and so he is not representing the organization at tonight's event."
While no official endorsement has been announced on Ryan's behalf, he may need some help explaining his unofficial support for the candidate who has a pretty messy past with this NFL team.