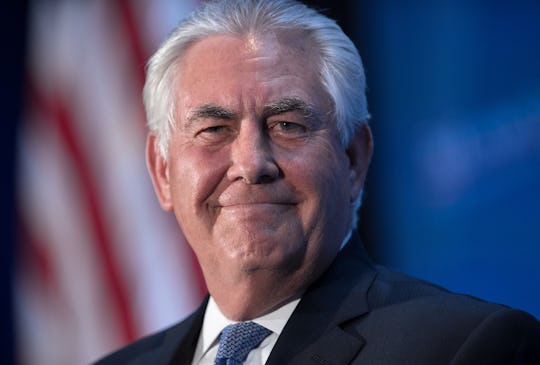 NICHOLAS KAMM/AFP/Getty Images
Who Is Rex Tillerson? Trump's Top Secretary of State Pick Has Deep Ties To Russia
Considering Donald Trump's presidential campaign was rather unconventional, it's not all that surprising that many of the president-elect's Cabinet picks have followed suit. And so far, most of Trump's nominations have either been retired military generals or come from a similar background as him — multimillionaire and billionaire business executives — with little or no political experience, including his reported top pick for secretary of state. So, who is Rex Tillerson? Very few Americans may be familiar with the ExxonMobil CEO, but the oil executive has no experience in the public sector and could soon be in charge of America's international diplomacy, a position that would put Tillerson fourth in line to the presidency.
According to The Wall Street Journal, Trump's transition officials say that Tillerson is a top choice because he "is viewed by some of Mr. Trump's advisers as a mold-breaking pick who would bring an executive's experience to the diplomatic role." NBC News reports that he is set to retire from ExxonMobil next year.
The 64-year-old executive — a "seasoned deal-maker," as The Wall Street Journal put it — has been with ExxonMobil since 1975 and over many years his job has taken him all over the world, including to Yemen and Russia. And if Trump's reported nomination is confirmed, Tillerson's lack of governmental experience would be a first in modern history for the position to be fulfilled by a person who would essentially be the president's chief adviser on foreign affairs.
Still, however, with decades in the spotlight of the oil industry, many of Tillerson's political positions are largely unknown, including where he stands on foreign policy. That is with the exception of his (and his company's) position on climate change.
According to The Washington Post, ExxonMobil only recently acknowledged the problem of climate change and started identifying solutions under Tillerson's leadership. And just days before the presidential election, the oil giant released a statement in support of the Paris climate agreement. The statement read:
The agreement is an important step forward by world governments in addressing the serious risks of climate change. ExxonMobil supports the work of the Paris signatories, acknowledges the ambitious goals of this agreement and believes the company has a constructive role to play in developing solutions. We have been working for many years to reduce emissions in our operations and provide products that help consumers reduce their emissions.
Tillerson's experience at ExxonMobil has also reportedly come with strong and personal ties to Russia as well as the country's President Vladimir Putin. According to Politico, he is known for "his ability to reach complex international agreements," such as a deal in 2011 that allowed the company to explore for oil in a Russia-controlled portion of the Arctic Ocean.
But the deal ultimately fell through due to U.S. sanctions against Russia imposed by the Obama administration, which was something he sharply criticized.
And in 2013 Tillerson received the country's Order of Friendship honor from Putin, according to NBC News.
If Trump does in fact nominate Tillerson to become the next secretary of state, ExxonMobil's interests in Russia as well as his financial stake in the company could possibly complicate his confirmation process.