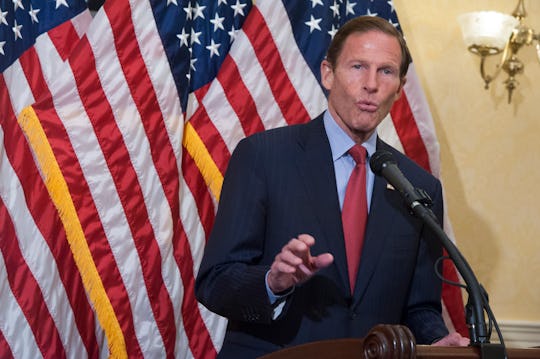 Kris Connor/Getty Images Entertainment/Getty Images
Why Is Trump Tweeting About Richard Blumenthal?
Once again, Americans have woken up to another hysterical tweet by President Donald Trump, spreading misinformation in response to an unflattering report on an early morning cable news show. Now it's time to figure out who Richard Blumenthal is, and whether Trump's tweet about him is 100 percent untrue, or just mostly untrue. It turns out that the pair of tweets were about 99.5 percent false, and that's being generous.
"Sen. Richard Blumenthal, who never fought in Vietnam when he said for years he had (major lie), now misrepresents what Judge Gorsuch told him?" Trump tweeted just before 7:00 a.m. (spacing in the tweet has been corrected for clarity). Then, about an hour and a half later, he followed it up with: "Chris Cuomo, in his interview with Sen. Blumenthal, never asked him about his long-term lie about his brave 'service' in Vietnam. FAKE NEWS!" The tweets appear to be in response to Blumenthal telling CNN (a network Trump claims not to watch) that Trump's Supreme Court nominee, Neil Gorsuch, called Trump's twitter attacks on "so-called judge" U.S. District Court Judge James Robart "demoralizing and disheartening." A representative for Gorsuch confirmed that he did say that, and sources also told CNN that Gorsuch made similar comments to New York Sen. Chuck Schumer, characterizing an attack on any judge as an attack on all judges.
Trump attacked Robart after the (very much real) federal judge issued a temporary restraining order halting Trump's executive order banning travel to the U.S. from seven Muslim-majority countries. As for his assertion that CNN anchor Cuomo didn't question Blumenthal about his military record, it was (as shown in the video above) literally the first thing Cuomo said to Blumenthal. Perhaps Trump doesn't watch CNN, after all.
Blumenthal served in the United States Marine Corps Reserve between 1970 and 1976, which did overlap with the timeline of the Vietnam War, but he was never deployed overseas. Although he's given "hundreds of speeches" during which he specifically said that he was never deployed, according to the award-winning Connecticut newspaper The Day, The New York Times (which Trump also claims is "fake news") did run an article in 2010 citing two occasions, in 2003 and 2008, when Blumenthal referenced his service in a "misleading way" that seemed to imply that he did fight in Vietnam. The Times story was quickly revealed to have come from the staff of professional wrestling magnate Linda McMahon, who, at the time, was running against Blumenthal for Senate (the campaign eventually failed). McMahon, who has given Trump $5 million, is now the president's nominee for Administrator of the Small Business Administration. In 2012, she supported a plan to eliminate the same agency.