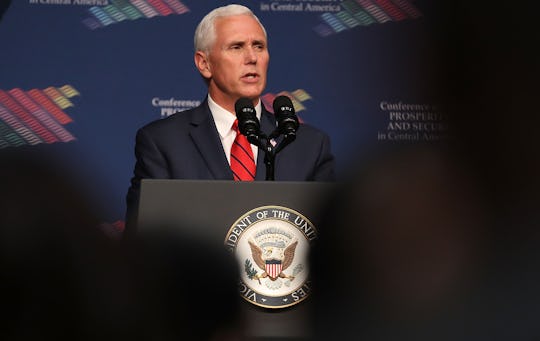 Joe Raedle/Getty Images News/Getty Images
Vice President Mike Pence Has Lawyered Up
Less than a month after President Donald Trump hired his own private attorney, New York-based litigator Marc E. Kasowitz, to handle the investigation into Russia's interference in the 2016 election, his second-in-command has followed suit. The Washington Post reported on Thursday that Vice President Mike Pence retained his own lawyer to also handle any inquiries related to him and the Russian probe. So, who is Robert Cullen and what should Americans know about the vice president's outside counsel?
Cullen, a Richmond-based lawyer, has an impressive legal career. According to The Los Angeles Times, he's an experienced criminal lawyer who is currently a senior litigation partner and chairman of the McGuire Woods law firm. Cullen has counseled "corporate executives, boards of directors, elected officials, and the heads of major nonprofit institutions on matters of the utmost sensitivity, often involving issues of national security" and has experience in "defending large multinational corporations in investigations conducted by the U.S. Department of Justice, state attorneys general and local prosecutors," according to his biography on the firm's website.
He's represented various high-profile politicians in Washington, D.C., including serving as special counsel to Republican Sen. Paul Trible during the Iran-Contra investigation in the 1980s, and was also on President George W. Bush's legal team during the recount of the 2000 election in Florida, according to his bio.
Cullen was also appointed as U.S. attorney for the Eastern District of Virginia under President George H.W. Bush in 1991 and later served as attorney general of Virginia from 1997 to 1998, according to CNBC. BuzzFeed News also reported that Cullen has ties to former FBI director James Comey, who was abruptly fired while leading the Russia investigation back in May, according to The New York Times.
Although his resume bleeds with experience, the hiring process reportedly took several weeks and included interviews with several candidates, according to The Washington Post. An aide also told the publication Cullen will not be paid with taxpayer money.
According to The Atlantic, there have "no indications" that Pence is a person of interest in the Russia investigation. But since special counsel Robert S. Mueller III, the former FBI director leading the investigation who replaced Comey, is reportedly widening his approach, Pence could be interviewed about "what he saw before and after the firings" of former national security adviser Michael Flynn in February and as well as Comey last month, The Atlantic reported.
As The Washington Post reported, Cullen will be handling all inquires from Mueller that may involve Pence, including inquiries about any possible ties between the president and Russia during the 2016 presidential campaign, as well as any other legal matters at the investigation proceeds.