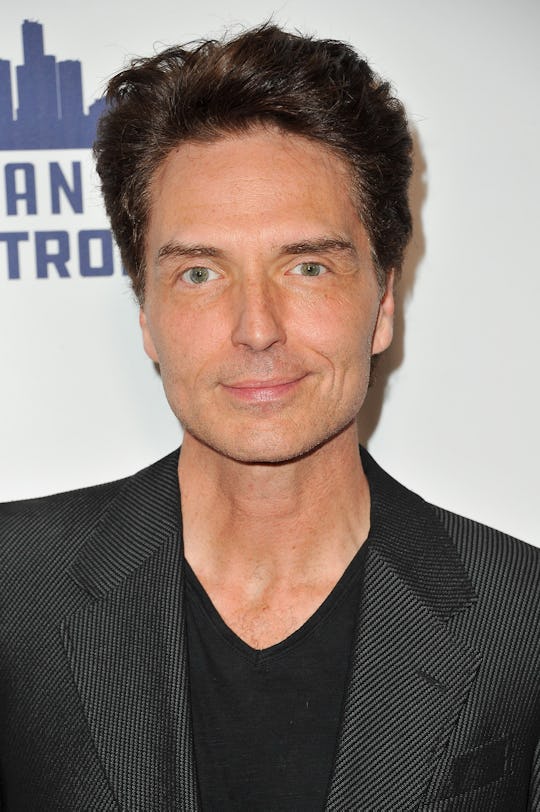 Allen Berezovsky/Getty Images Entertainment/Getty Images
Richard Marx Crashed 'The Bachelorette' With Some Smooth Songwriting
When it comes to The Bachelorette, I'm not going to lie, some dates look absolutely awesome; they may even include special guests. On Monday night's episode, Becca will take a trip to Capital Records and meet an actual producer. Who is Richard Marx? The singer/songwriter/producer will make an appearance on The Bachelorette.
This will certainly not be the first time a celebrity graces Bachelor Nation with their presence. Last year for a Bachelorette group date, A-list couple Ashton Kutcher and Mila Kunis showed up to help Rachel out. They said they were both huge fans of the show: "Monday nights for us are white wine, vodka tonic, Bachelor or Bachelorette." The date was centered around being a good husband and father; while it could get in the "kinda sexist" zone (well, I suppose that's the show as a whole), it was cute to see Kutcher and Kunis there.
Already there's been a celebrity guest on this season already. For Becca's first one-on-one date of the season (with Blake), Lil Jon showed up to sing "Turn Down for What" and ad-lib while the two smashed stuff that reminded Becca of Arie. I'm not sure any other date will top that this season, but perhaps songwriting with Richard Marx might.
Richard Marx is kind of a big deal: he's sold over 30 million records and is not only a musician in his own right, but he's also a songwriter and producer. His debut album, Richard Marx (super original there), was released in 1987 and had hits like "Hold on to the Nights" and "Don't Mean Nothing," which earned him a Grammy nomination for Best Male Rock Vocal Performance. His next album was called Repeat Offender and hit #1 and went quadruple-platinum. Two #1 singles on that 1989 album were "Satisfied" and "Right Here Waiting."
Besides writing for himself, Marx has also worked with artists like Josh Groban and N'SYNC. So, yeah, it's safe to say Marx is pretty successful. According to Inquisitr, Marx will make an appearance on a one-on-one date to help Becca write a song. Adorable! I hope it's a drama-free date, seeing as the group date that episode is set to bring up some feels.
Last episode, Colton revealed that he dated Becca's friend Tia from last season of The Bachelor. Becca was upset, but kept Colton in the house. Well wouldn't you know it, this episode the group date features Becca's friends from last season. Colton is on the date, and Tia is one of the friends. Becca has spoken out about their romantic connection, telling ET, "Yeah, they did have a past, so that's something Tia and I had conversations about," Becca said. "They dated. I don't know how serious it was, but you'll see all of that unfold throughout the season as well."
Becca also made a point to say how much she liked Colton from the start. She told ET, "Colton, night one, I remember thinking how big of a heart he had," she said. "What really drew me to him that first night was the fact that he had started a nonprofit [for cystic fibrosis], and that's something near and dear to my heart because two of my cousins have it. So night one, I felt like we really connected over that." Now, she doesn't go further than "night one" here — and Bachelor Nation saw how salty she got at Colton when she found out — but it's interesting that she made this point.
Seeing as there may be some contention during the group date, the one-on-one with Richard Marx could bring some well-deserved chill and cuteness. I'm excited to hear the song Becca writes!