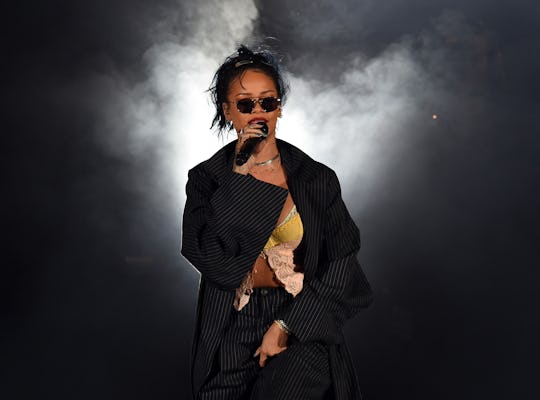 Kevin Winter/Getty Images Entertainment
Who Is Rihanna Dating? She & Rapper Travis Scott Might Be Getting Serious
Bad girl of hip-hop, Rihanna, aka Ri-Ri, has been stealing fan's hearts for years. But who has stolen Rihanna's heart? With her Grammy appearance quickly approaching, some fans have been wondering who will be on her arm during the star-studded event. Who is Rihanna dating? It's quite the mysterious and difficult question.
Fans may remember when Rihanna broke Chris Brown's heart back in 2015. That is all over now, at least for Rihanna, and she has had no trouble moving on. Since then, there has been a lot of speculation about who she is seeing. Last summer, Rihanna was spotted with Formula One race car driver Lewis Hamilton in Barbados. Before that, she was rumored to be seeing Real Madrid soccer player Karim Benzema. Some were even saying that she was dating Drake (though that seems like a rumor Drake might have started). Blake Shelton even made some moves during an interview with Access Hollywood. He said, "We'll probably end up hooking up at some point."
After all that, it looks like Rihanna is likely dating rapper Travis Scott. They were seen together on multiple occasions during New York Fashion Week. An insider shared with E! News that "Travis and Rihanna are dating, officially." The source went on to say that "it's already very serious. He's very into her."
Since then, the pair has been seen out on the town together regularly. Rihanna has attended his concerts, so fans will have to wait and see if Scott will attend her big event: the Grammys. To date, Rihanna has won eight Grammy awards with possibly more on the horizon. As for specifics about her dating history, it's hard to say. Rihanna is intensely secretive, giving few interviews. She spoke at length with Miranda July for her incredible (and incredibly candid) New York Times Magazine interview back in October 2015. In that article, Miranda July asked her about her love life:
Rihanna doesn't have time for extracurriculars right now, and this includes dating.
''Guys need attention,'' she explained. ''They need that nourishment, that little stroke of the ego that gets them by every now and then. I'll give it to my family, I'll give it to my work — but I will not give it to a man right now.''
I said that it took me a long time to find a guy who wasn't threatened by my power, and Rihanna quietly replied, 'I'm still in that time.''
So, is it serious with Scott? It's hard to say. Perhaps Rihanna has changed her tune. Perhaps she does have time for dating, if it's the right person. At the moment, though, she does seem pretty occupied with #WORK.