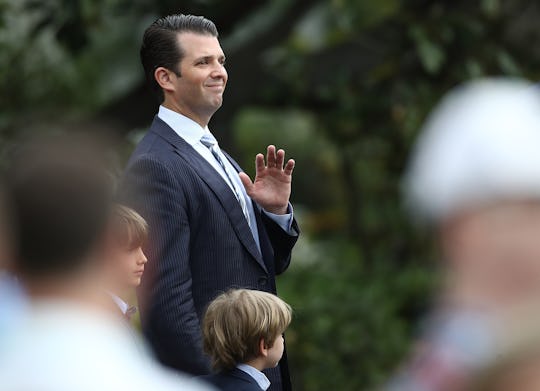 Win McNamee/Getty Images News/Getty Images
Rob Goldstone Is Reportedly Behind Trump Jr.'s Russia Meeting
In response to The New York Times article about a meeting between Donald Trump Jr. and a Russian lawyer, the eldest son of the president tweeted an email chain he said is about just that. One name featured in the chain, though, has many wondering who Rob Goldstone is and what his connection is to the Trump administration's meetings with officials tied to Russia. Goldstone has not responded to Romper's request for comment regarding whether he provided information to Trump Jr. that would hurt then-Democratic candidate Hillary Clinton's campaign or regarding whether providing such information would be evidence of collusion with the Russian government to influence the U.S. election. As of now, there is no clear evidence of collusion.
As the BBC reported, Goldstone is a former British tabloid journalist and is now an entertainment publicist. According to The New York Times, his ties to the Trump family started when he met President Donald Trump, prior to his presidency, while the Trump Organization was attempting to do business in Russia.
Goldstone — who has previously made it clear on social media that he was not a fan of former Democratic presidential candidate Hillary Clinton — reportedly manages Russian pop star Emin Agalarov, "whose father, Aras, is a Moscow-based real estate developer who was Mr Trump's business partner in taking the Miss Universe competition to Moscow in 2013," according to the BBC.
As Vanity Fair reported, Goldstone has reportedly "made at least 19 trips to Russia since 2013" and has described "Moscow as his second home."
Fast forward to June 2016 and that's where Goldstone's role comes into play. Last summer he reportedly offered to schedule a meeting for Trump Jr. with a "Russian government attorney" about information that would "incriminate" Clinton and "her dealings with Russia and would be very useful to your father," Goldstone reportedly wrote, according to the emails the younger Trump shared on Tuesday.
"This is obviously very high level and sensitive information but is part of Russia and its government's support for Mr. Trump," Goldstone wrote in the email chain with Trump Jr.
After some back and forth, Goldstone then arranged a meeting between Trump Jr. and the Russian lawyer, Natalia Veselnitskaya, at Trump Tower on June 9, 2016, which was just two weeks after his father had secured the Republican nomination, as the BBC reported.
In a statement published on Twitter on Tuesday, Trump Jr. wrote he "first wanted to just have a phone call" with Veselnitskaya, but "when that didn't work out, they said the woman would be in New York and asked if I would meet, I decided to take the meeting."
According to The New York Times, Trump Jr. was asked to comment on the meeting before the article was published Tuesday, but instead he tweeted images of the email chain himself.
"To everyone, in order to be totally transparent, I am releasing the entire email chain of my emails," Trump Jr. wrote on Twitter, adding that Veselnitskaya had "no information to provide" and talked about Russia's adoption policy and the Magnitsky Act, which bars American families from adopting Russian children.
As for Goldstone's account of the meeting, he told USA Today in a statement that Veselnitskaya had "apparently stated she had some information regarding illegal campaign contributions to the (Democratic National Committee) which she believed Mr. Trump Jr. might find important."
"I reached out to Donald Trump Jr. and he agreed to squeeze us into a very tight meeting schedule," he said in the same USA Today statement, and added that the attorney "presented a few very general remarks regarding campaign funding."
"At which point, the meeting was halted by Don Jr., and we left,'' Goldstone's statement continued. "Nothing came of that meeting and there was no follow up between the two parties.''
While Goldstone's role in Trump Jr.'s meeting with a Russian lawyer has only recently surfaced, anyone who has been paying attention to the investigations into Russia's alleged involvement with the 2016 presidential election is intrigued.
It's clear from his social media posts and his eagerness to set up the appointment that Goldstone has always been on Team Trump. But even knowing everything that has been uncovered, his involvement still raises several questions.