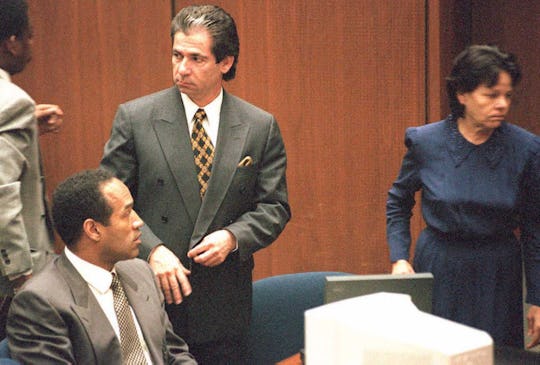 Pool/Getty Images
Who Is Robert Kardashian's Second Wife? Jan Ashley Is Still Very Much A Mystery
Ask any American who Robert Kardashian was married to, and you are bound to get the same answer 99 percent of the time: reality TV matriarch Kris Jenner, of course. Little is known, however, about Kardashian's life, or his second wife, Jan Ashley. But all that's about to change when FX's The People v. O.J. Simpson: American Crime Story airs Tuesday night at 10 p.m. ET. The upcoming series stars David Schwimmer as Robert Kardashian, who was reportedly O.J. Simpson's best friend at the time of the famous trial.
The details surrounding Kardashian's relationship with Jan Ashley, who was briefly married to Jenner's late ex-husband in the late '90s, remains mostly a mystery. Radar Online has cited a variety of interviews with Ashley over the years that describe anger and resentment toward Jenner — not to mention allegations that Jenner and her children were the cause for Ashley's marriage's failure. Ashley claimed in one particular interview,
Did the kids have anything to do with it? Of course, they did! All I know is he was upset all the time. Not with me, with his kids and his ex wife. They were after him for money, money, money. I don't think he could handle them.
But the limelight has remained mostly on the Kardashian family as their empire grows. FX's new American Crime Story promises to go beyond the glitz and glamor of the 'Kardashian life' to get to the brunt of a very uncomfortable moment in their family history: the O.J. Simpson trial. Amid the excessive spending and over-active social media accounts of the Kardashian crew, it's sometimes hard to remember times weren't always so rosy for America's favorite reality TV family.
And don't forget, the feud with Ashley is just the beginning when it comes to the Kardashian ladies' run-ins with their late father's wives. Exhibit A: Ellen Pierson Kardashian married Robert Kardashian six weeks before he died of cancer in 2003 and is now reportedly locked in a legal battle with the Kardashian family for allegedly selling Robert Kardashian's diaries and letters to magazines.
And if you thought that wasn't enough drama for one man's legacy, don't worry, I saved the best for last — Kris Jenner, herself, of course. What's she up to these days? The better question is what is she not up to, but, most of it revolves around her clan, per usual. The matriarch is busy running the family, and a myriad of businesses, and she does most of it in the limelight. Despite all of that, though, much of Jenner's late husband's life is shrouded in mystery, including some of his past relationships.
Maybe FX's new series will give the world a window into the mystery that is the man behind the Kardashian family.