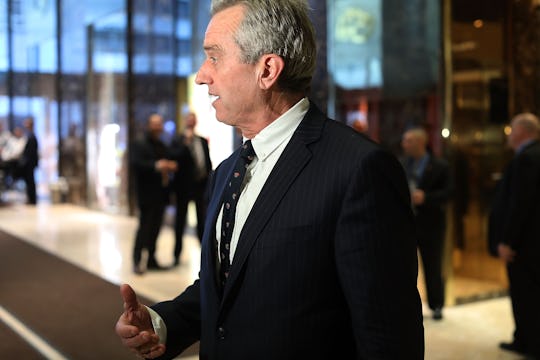 Spencer Platt/Getty Images News/Getty Images
Robert Kennedy Jr.'s Strange Opinion On Vaccines
Don't you just love when people act like experts on topics they know nothing about? Yeah, me either. But, unfortunately, that seems to be the resounding theme behind our current president-elect and the majority of his Cabinet and staff picks as well. The same goes for Robert Kennedy Jr., radio host, activist, attorney, and creator of a vaccine-autism conspiracy theory that has since been debunked. And as of Tuesday, Trump has appointed Kennedy to be the chair of a newly-created commission dealing with vaccines and science. So, what exactly does this mean, and more importantly, who is Robert Kennedy Jr.?
Update: In an email statement to Romper, transition team spokeswoman, Hope Hicks, said through her representative: "The President-elect enjoyed his discussion with Robert Kennedy Jr. on a range of issues and appreciates his thoughts and ideas. The President-elect is exploring the possibility of forming a commission on Autism, which affects so many families; however no decisions have been made at this time. The President-elect looks forward to continuing the discussion about all aspects of Autism with many groups and individuals."
Well, Kennedy comes from an interesting background, (I mean, he is a Kennedy) but perhaps the most important area of his past is that of his renouncement of vaccines, and the vaccine industry.
Back in 2015, Kennedy gave a (now notorious) speech at an anti-vaccine film screening in Sacramento, California. In his speech, Kennedy referred to the vaccine industry as being responsible for a modern-day Holocaust, according the CNN.
These remarks were fueled by a highly-popular thought system, prominent in the late '90s, based on a (now irrelevant) study done by Andrew Wakefield. The study, originally published in 1998, looked at the connections to vaccines and autism, claiming the former to be the cause of the later.
However, after much close reading and research, that study was found to be false. Even the CDC has stepped in to clarify the truth about the link between vaccines and autism: There isn't one.
Obviously, and this is no surprise, these facts haven't stopped Trump from broadcasting his version of the truth to the world.
And what's even more harrowing than Trump's tweets? He's now backing them up with actions. Today, Trump has appointed Kennedy a role in Washington, as the chair of a new commission dedicated to vaccines and the science behind them. It would be one thing if Trump had chosen to appoint a more unbiased person to the position, but with Kennedy's strong feelings on the matter, the question of what role he will play in the health of our children remains unclear.
Romper has reached out to the Trump transition for comment on Kennedy's chair appointment and is awaiting a response.
As more and more studies are showing the importance of vaccines to our youth, and with outdated diseases starting to appear in scarily-high numbers, it becomes more crucial than ever to become involved in politics, in whatever way we can. Because now, our kids' safety and health is at risk, and that isn't okay.