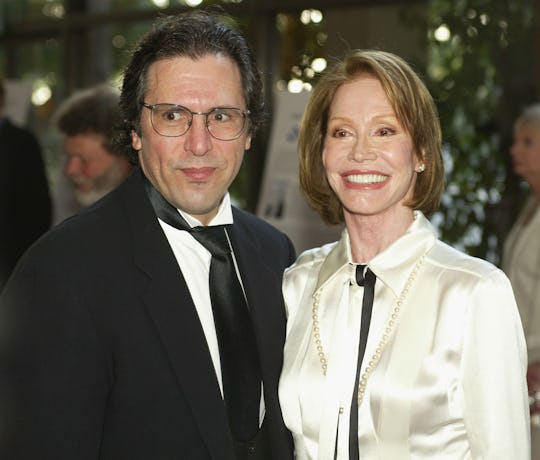 Kevin Winter/Getty Images Entertainment/Getty Images
Mary Tyler Moore's Husband Deserves His Privacy
On Wednesday afternoon, Mary Tyler Moore passed away at the age of 80, after reportedly spending a week on a respirator. Moore had a history of medical conditions, including diabetes, and underwent surgery in 2011 to remove a tumor on her brain. As fans begin to grieve, they're also turning their attention to those who need and deserve their heartfelt condolences: Moore's family. So, who is Robert Levine? Moore's third husband and cardiologist definitely deserves privacy during this difficult time.
Mara Bauxman, long-time representative of Mary Tyler Moore, gave a statement to Romper, saying:
Today, beloved icon, Mary Tyler Moore, passed away at the age of 80 in the company of friends and her loving husband of over 33 years, Dr. S. Robert Levine. A groundbreaking actress, producer, and passionate advocate for the Juvenile Diabetes Research Foundation, Mary will be remembered as a fearless visionary who turned the world on with her smile.
Perhaps the best way to pay tribute to a woman as iconic as Mary Tyler Moore, is to revisit her life and the way in which she unapologetically lived it. Moore certainly didn't make any excuses for her life, including the number of marriages she enjoyed. As the unabashed woman she was, she made a "splash" when she married Levine in 1983, who was 18 years her junior. At 45, Moore had been married twice before: to Richard Meeker, from 1955-1961, and Grant Tinker, a co-founder of MTM productions and former chairman of NBC, from 1962-1981.
In a 1983 interview with People, long-time co-star of the Mary Tyler Moore show, Valerie ("Rhoda") Harper, said of Moore and her impending wedding to Levine, "Mary's filled with joy because she and Robert are friends as well as loving each other." In a sense, Moore was "breaking the mold" by wedding a man younger than her. At the time, while it wasn't unheard of, it certainly was unconventional. However, a friend of Moore's explained in the same People interview, "Besides, why is this different from an older man marrying a young, skinny cutie? People would say, 'Wow, more power to him!'" Even the headline of that particular People article, "Twice-Divorced Mary Tyler Moore, 45, Heads for the Altar Again—and This Time, Her Heartthrob Is 30" is telling, yet Moore clearly knew what she was doing, per usual: her and Levine were married for over 33 years.
When Moore met Levine, he was a cardiologist at New York's Mt. Sinai Hospital. The two were married on Thanksgiving Eve at Manhattan's Pierre Hotel. Our thoughts, prayers, and condolences go out to Moore's entire family during this difficult time.