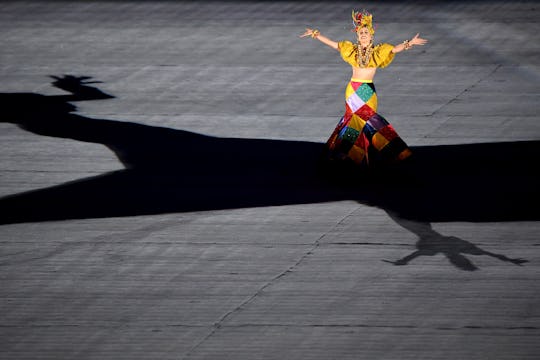 Pascal Le Segretain/Getty Images Sport/Getty Images
Who Is Roberta Sa? The Closing Ceremony Dancer Gave A Colorful Performance
Amid a sea of colors and activity, there was a brief moment during the Olympic closing ceremony when all eyes were on just one person. During the performance of Heroes of the Games, Samba singer Roberta Sá was center-stage. But, with her global introduction, many were wondering: Just who is Roberta Sá?
As the NBC announcers were quick to explain, Sá, 35, was paying homage to legendary Brazilian singer and actress Carmen Miranda, who died in 1955. With a colorful skirt, ornamental headdress and rendition of Tico-Tico no Fubá, Sá was the spitting image of her famous predecessor, who is arguably one of the most iconic Brazilians, despite having passed away more than half a century ago. Sá's Miranda-esque ensemble was largely thanks to the vision of Rosa Magalhaes, artistic director of the Olympic closing ceremony.
Despite the very intentional stylistic similarities, Sá stood out all on her own with an impressive performance of the original Heroes of the Games song after singing Miranda's classic Tico-Tico no Fubá. Standing on her own was fitting for Sá, who has been a pop icon in Brazil ever since breaking out on the television show Fama in 2002. Although Sá wasn't very successful in the American Idol-like competition, it helped her connect with her eventual manager. She went on to release a number of well-received albums and earned Latin Grammy nominations for her vocal prowess.
The Olympic closing ceremony isn't her first time to step onto the international stage, however. Sá is in the midst of a global tour, called Delirium, which made stops in France, Spain and the United Kingdom earlier this summer... And based on her reception during the closing ceremony, the United States may have to be the next stop for Sá, especially if she agrees to bring along that fantastic outfit.