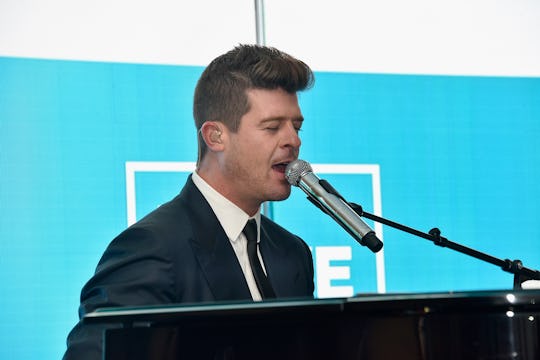 Eugene Gologursky/Getty Images Entertainment
Who Is Robin Thicke Dating Now? He Seems Dedicated To The Relationship
While Robin Thicke may not be up for a Grammy this year, the "Blurred Lines" star will likely make an appearance at the 2016 Grammy Awards in Los Angeles. If I had to put money on it, I'd say he'll likely be accompanied by his current girlfriend. Who is Robin Thicke dating now? Why, none other than model April Love Geary — duh.
Thicke and Geary have been dating since October 2014, according to HNGN, and rumors of an engagement have followed the pair around. Whether those rumors are true, the pair seems to be going strong. Thicke, who's 38, his 5-year-old son, and 21-year-old Geary were seen in St. Barts in January, according to The Daily Mail. They began dating shortly after Thicke and his ex-wife of nine years, Paula Patton, filed for divorce in 2014.
Judging by Geary's Instagram page, she and Thicke are still... thick as thieves (see what I did there?). On Thursday, she posted the following cartoon, captioned with, "Sorry Robin," so I'm guessing the couple are still doing great, despite past media speculation that the pairing was more of a rebound and questions surrounding their age difference.
Cartoons aside, the couple does look happy together:
Thicke's last song to draw massive attention was "Blurred Lines," which became a chart-topping dance hit but also drew a copyright lawsuit and feminist fire (not to mention plenty of comments on his VMA performance with Miley Cyrus). Shortly after, he and then-wife Paula Patton split, and Thicke released an album called Paula, which didn't do well on charts by any measure.
After publicly apologizing to his ex-wife and dedicating a song called "Forever Love" to Patton at the 2014 BET Awards, Thicke said he realized he had to change. "I came home, and my best friend of 20 years, Craig Crawford, said, 'I saw your BET performance.' And I said: 'Oh yeah! What did you think?' You know — excited. And he goes: 'I gotta be honest with you, buddy. You're kind of playing yourself. You look like a sucker.' And it hit me that I'd lost my perspective. What I thought was romantic was just embarrassing," Thicke told The New York Times. He said he decided to step way from the spotlight for a while:
So I shut everything down. I took some time off to be with my son, and to be with my family and close friends. And the more time I took off, the more everything became clear.
It looks like things have cleared up quite a bit for the star, who looks quite happy with Geary. Here's to wishing them the best.