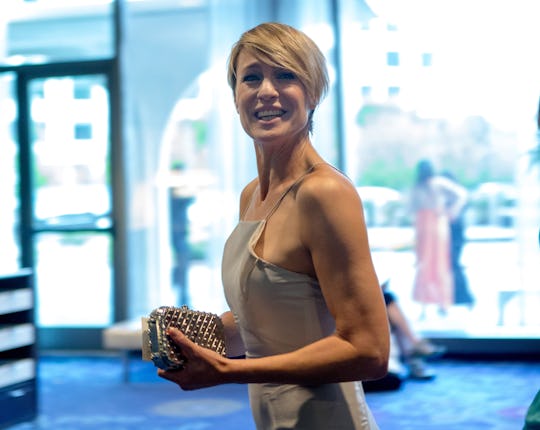 Allison Shelley/Getty Images
Who Is Robin Wright Dating? She Could Be Bringing An Old Flame To The Golden Globes
She's the star of a ridiculously popular political Netflix series and a Golden Globe nominee. Now that her career is more exciting than ever, fans want to know: Who is Robin Wright dating? The answer: It's unclear. But some reports suggest she may have romance on the horizon.
When it comes to her love life, Wright has had a complicated road. According to IMDB, Wright married fellow Santa Barbara cast member Dane Witherspoon in 1986. E! reported that Wright and Witherspoon divorced in 1988 (Witherspoon died in April 2014), and Wright went on to marry Sean Penn. After their 1996 wedding, the two spent quite a few years together, but according to The Huffington Post, they separated informally in 2007 before filing for legal separation (Penn) and then divorce (Wright) in 2009.
Wright then dated actor Ben Foster for more than two years, and in January 2015, the two attended the Golden Globes together, just a few months after supposedly ending a 10-month engagement. In a March interview with the Los Angeles Times, Wright shared that she and Foster were still together, saying:
He inspires me to be the best of myself. There's so much to learn. It's endless. How great! It took me a long time to grow up. Love is possible as life is possible.
The relationship didn't last. A People report in August claimed that Wright and Foster had ended their engagement. The next month, rumors emerged that Wright had reconnected with Penn; According to Life & Style Weekly, their reunion may have been the result of Penn's breakup with Charlize Theron. So far, neither party has confirmed the rumor.
On Sunday, that mystery might be solved. Wright is nominated for a 2016 Golden Globe for Best Performance by an Actress In A Television Series (Drama) for her role as Claire Underwood in the Netflix show, House of Cards — a role for which she was nominated in both 2014 and 2015. (Wright lost in 2015 to Ruth Wilson for The Affair — her first Golden Globe nomination was in 1994, when she was nominated for Best Performance by an Actress in a Supporting Role in a Motion Picture, for her performance as Jenny Curran in Forrest Gump.)
So while it's unclear whether Wright is dating anyone at the moment, when she walks the Golden Globes red carpet on January 10, fans will definitely be watching to see who she brings as her plus one.
Images: Allison Shelley/Getty Images; Frazer Harrison/Getty Images