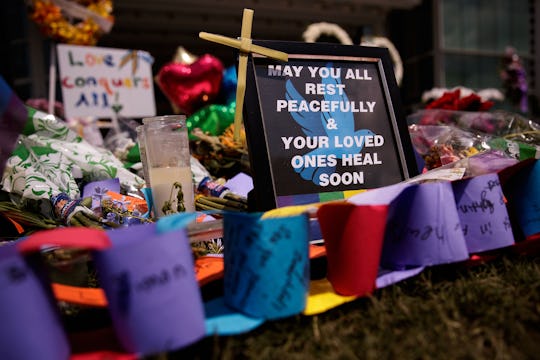 Drew Angerer/Getty Images News/Getty Images
Who Is Rodolfo Ayala-Ayala? He Was A 'Prankster' & Hard Worker
The list of victims from Sunday's shooting at Pulse in Orlando, Florida is hard to get through. And although every life lost was meaningful and beautiful, Rodolfo Ayala-Ayala will be missed tremendously not just as a friend and "vibrant soul," as one friend called him, but as an important community member as well. According to People, Ayala-Ayala worked at OneBlood, a blood donation site that actually received a swell of donations in the wake of the massacre. Ayala-Ayala, 33, had worked there since 2011 as a Biologics Assistant and slowly worked his way to a team leader.
In 2015, he took over a role as Platelet Supervisor in their Orlando lab. The organization wrote this week that Ayala-Ayala "was passionate about saving lives and took great pride in the lifesaving work he performed." He was also the go-to guy when something wasn't going right. OneBlood continued,
Ayala-Ayala was often called upon to share his knowledge and best practices with many of the people in his department and was an intricate part of a team of people who work diligently to help save lives. He was a caring and friendly person and will be greatly missed by everyone who had the honor of knowing him.
It's a strange twist of fate that he was so involved with the blood bank, which was vital when it came to providing the trauma center with blood donations for the other victims of the shooting.
But it wasn't all so serious all the time with Rodolfo. A co-worker, Adam Colon, told People that he was a "prankster" and an all around fun guy to work with. "Rody would not hurt a fly. He was gentle and sweet and charismatic," Colon said. "He had an infectious smile. If you were having a bad day, he would come in the room with his smile and he would brighten up the whole room."
He was one of those guys — the best kind, the kind you could goof around with and still slug through the work week with.
Sunday's shooting at Pulse was the biggest in American history, with 49 victims. Omar Mateen, the gunman, was shot by police when they raided the club to stop the slaughter. Mateen's father recently told CBS News that his son, who harbored anti-gay sentiments, "[didn't] have the right, nobody has the right to harm anything, anybody."
Which is an understatement, to be sure. Especially when you think of victims like Rodolfo, who had so much to offer everyone in his life.