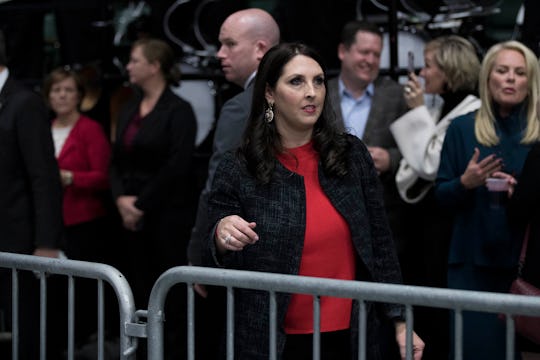 Drew Angerer/Getty Images News/Getty Images
Who Is Ronna Romney McDaniel? Mitt Romney's Niece Was Reportedly Tapped For A Big Job
An anonymous source confirmed with CNN on Monday that Michigan native Ronna Romney McDaniel will be the next Republican National Committee (RNC) chair. That middle name sounds familiar, but who is Ronna Romney McDaniel? Mitt Romney's niece began her political career quite recently, in 2012.
According to The Detroit Free Press, McDaniel worked in Michigan on Romney's 2012 presidential campaign. Following that successful stint campaigning for the former Massachusetts governor, she was elected in 2014 to represent Michigan on the Republican National Committee. In 2015, she was elected to chair the Michigan Republican party. During her brief tenure in Michigan politics, McDaniel was involved with many historic wins for Michigan's Republican party, not least being turning a blue state red in the 2016 elections: President-elect Donald Trump won Michigan, marking the first time that a Republican presidential nominee won the state since 1988. What's more, the Republican majority in Michigan's state House has increased since McDaniel became head of the party. Currently, the Republicans hold a 63-47 majority, according to The Free Press.
If officially selected, McDaniel will be filling the seat of current RNC chair Reince Preibus, who has been named Trump's chief of staff. According to The Washington Times, insiders view McDaniel's selection for RNC chair as a possible salve for injuries caused by Trump's rumored passing over of Mitt Romney for secretary of state. While Romney is still in the running, he is reportedly facing stiff competition from ExxonMobile CEO Rex Tillerson.
McDaniel has certainly demonstrated a willingness to unite the party behind the president-elect. Speaking at a Trump rally in Grand Rapids, Michigan on Friday, McDaniel told the crowd, "They said a Republican could never win Michigan, but I knew better, you knew better, and Donald Trump knew better ... This victory was a movement and message that Americans are tired of being left behind."
McDaniel also acknowledged the Michigan Supreme Court's decision on Friday to halt the recount efforts in the state, which had been initiated by Green Party nominee Jill Stein. "Michigan was one of the states where Jill Stein was throwing her temper tantrum," McDaniel said. "... The recount in Michigan is over ... Winning once was nice. Winning twice was huge."
The Hill reported on Friday that "two sources with direct knowledge of Priebus' thinking" confirm that McDaniel is Priebus' "favored choice" to replace him. The other top contender for RNC chair was Nick Ayers, the former executive director of the Republican Governors Association who, according to The Hill, is considered "more independent of the RNC" than McDaniel. Ayers was reportedly supported by Vice-president elect Mike Pence, but it appears that the job will go to McDaniel.
Prior to her work in politics, McDaniel worked as a business manager for Mills James Productions, a video company, and as a production manager for SRCP Media, which produces political ads, according to The Free Press. The married mother of two is the daughter of Ronna Romney, a politician in her own right who is a former U.S. Senate candidate, and Scott Romney, Mitt's brother. Ronna and Scott are now divorced.
The RNC chair will officially be elected in January by a vote of the committee's 168 members. According to tradition, the committee is expected to vote in favor of the incoming president's pick.