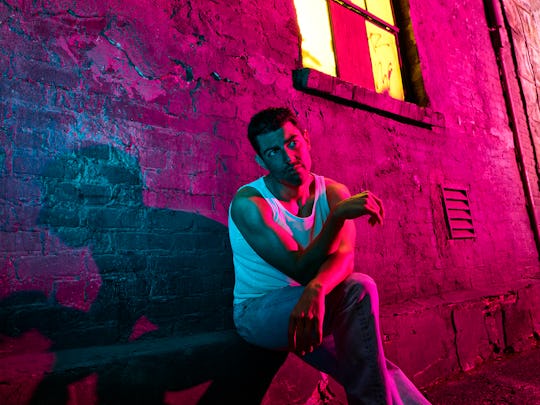 Pari Dukovic/FX
You Won't Be Able To Recognize Max Greenfield On 'The Assassination Of Gianni Versace'
In "The Man Who Would Be Vogue," the cops follow a lead on murderer Andrew Cunanan that brings them to a rundown South Beach hotel. However, instead of the criminal they're looking for, they only find a scruffy resident named Ronnie. It was a blink and you'll miss it moment, but he may prove more important than you think. So who is Ronnie on The Assassination of Gianni Versace? He was played by Max Greenfield, though Greenfield was so recognizable you might not have even realized it was him.
Andrew Cunanan lived in Miami for two months right in the middle of his murder spree. After reportedly killing four men, he fled to Florida and hid almost in plain sight until he shot Gianni Versace. In that time, he formed a friendship with a local named Ronnie who was staying in the same complex. The Guardian described Ronnie as "a South Beach junkie who crosses paths with Cunanan and makes it out alive," and he may take on greater prominence as the show digs deeper into Andrew's time in hiding.
Ronnie was also a real person the real Cunanan knew, according to Maureen Orth's book Vulgar Favors, which inspired this season of American Crime Story.
Orth described the real Ronnie as "a sky-blue-eyed, forty-three-year-old Normandy Plaza resident with long, stringy blond hair, usually barefoot, who is gay, HIV positive, and living on disability." He explained to her that he had spoken with Cunanan on a near-daily basis before the Versace murder, though Ronnie was unaware of the violence his new friend was capable of inflicting. Ronnie said he helped Cunanan acquire crack cocaine, which he may have been addicted to; earlier in the book, Orth had delved into the possibility that Cunanan was a closet crystal meth user in the years before the murders occurred.
"He never said anything as to why he was here," Ronnie told Orth. "I copped for him. There's other people who went out and copped for him. I knew what he was doing. He was hiding. I didn't know it was for killing people."
Additionally, Ronnie told Orth that he helped Cunanan make money as a sex worker as well, arranging for him to meet with clients. At the time, Cunanan was also committing burglaries to afford his rented room and alleged drug habit. "He never said where he was from," Ronnie said. "I set him up with a few old men, old rich guys around here. They would use my room. I got money that way."
Greenfield may not resemble the real Ronnie's description, but he still transformed for the role. The actor told AM New York that he did a lot of research to understand what Ronnie was going through at the time as an HIV positive gay man in 1997 who had only recently begun to receive necessary medical care.
In the period of time it was two years after they figured out the correct medication to treat HIV, so you have all these people who were affected by this disease, many of whom had accepted their own fate, and had for quite some time and were waiting to die. And then there was this treatment, and you saw patients that were extraordinarily sick better within 30 days.
Greenfield explained how that could have impacted Ronnie's friendship with Andrew. "For somebody who is so completely on their own in Miami, living minute by minute, still confused and bewildered by everything that has happened over the past 15 years, to find any sort of friendship, was so important to him," he said. "He didn't want to believe Andrew could've done something very harmful."
On The Assassination of Gianni Versace, Ronnie not only provides insight into Cunanan's frame of mind during his downward spiral, but gives viewers a look into what life was like for an HIV positive gay man in the '90s who didn't have a lot of opportunities or support. He may be a minor character in the scope of the show, but he still serves an important purpose.
Check out Romper's new video series, Romper's Doula Diaries:
Watch full episodes of Romper's Doula Diaries on Facebook Watch.