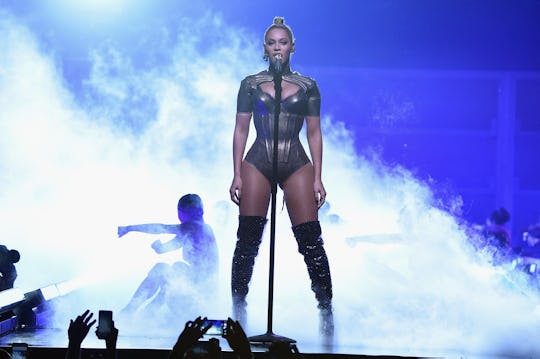 Theo Wargo/Getty Images Entertainment/Getty Images
Who Is Rumi, The Muslim Poet?
Quick Q: who's the best-selling poet in the United States? Shakespeare? Robert Frost? Emily Dickinson? Nope, all wrong! It's Rumi, the mystic and Muslim poet who is reportedly the inspiration behind one of Beyoncé's twin's baby names, according to recent reports by TMZ. But who is Rumi, the Muslim poet, and why is he such a significant figure to Beyoncé and JAY-Z?
Born in the 13th Century in the small village of Vaksh (which is now located in what we know as Tajikistan), Rumi's full name is Jalāl ad-Dīn Muhammad Balkhī, according to Poets.org. He was descended from a long line of poets, scholars, and mystics. When he was in his teens, Rumi's family traveled 2,500 miles to avoid Genghis Khan's invading armies, so they settled in what is now known as Turkey, where Rumi eventually became a mystic and a scholar.
When he was in his early 40s, Rumi met a man named Shams of Tabriz, a mystic who became his teacher. The two developed an intense relationship until Shams was, according to legend, murdered by one of Rumi's sons in an honor killing. A devastated Rumi started writing poetry, and he ultimately published more than 40,000 poems in his lifetime, which cover topics from love to freedom to the quest to find God. His six-volume spiritual epic, the Masnavi, is considered a poetic masterpiece.
Perhaps Rumi's most famous poem is excerpted in Hush: Don't Say Anything To God, a collection of his teachings. It's also been seen in many an Instagram post and yearbook page:
"Do you know what you are? You are a manuscript oƒ a divine letter. You are a mirror reflecting a noble face. This universe is not outside of you. Look inside yourself;everything that you want, you are already that."
An engraving of Jalal al-Din Rumi, c. 1594
Rumi is considered extremely controversial in some circles: some Muslim majority countries view his poems as blasphemous, and there's some debate over whether his relationship with the Shams of Tabriz had homoerotic undertones.
Yet although Rumi's poems were written 800 years ago, they continue to resonate with contemporary readers. They have been published in numerous volumes, and he is now considered the best-selling poet in the United States, even though he has been deceased for more than 800 years. There's even a Twitter account of his translated poems, which reflects how much his verses resonate with readers today.
Although Beyoncé has never spoken openly about whether she's familiar with Rumi's works, she'd be far from the first artist to attest to his influence. Both Madonna and Goldie Hawn are fans of Rumi, even recording verses of his poetry for a 1999 CD produced by self-help guru Deepak Chopra. Tilda Swinton is also a fan, and used some of Rumi's poetry to help promote her line of personal fragrances.
Thanks to the continued publication of Rumi's poetry, as well as numerous biographies of the man himself, his influence continues to be felt worldwide. Now that Beyoncé has reportedly named one of her twins after the poet (and also trademarked the name Rumi Carter, according to reports from TMZ), the name will likely skyrocket in terms of popularity — and also introduce a whole new generation to the Muslim poet and mystic's works.