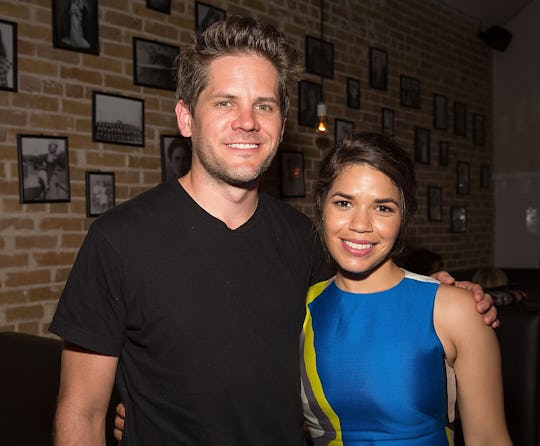 Rick Kern/Getty Images Entertainment/Getty Images
3 Things Fans Should Know About America Ferrera's Husband, Ryan Piers Williams
Sisterhood of the Traveling Pants star America Ferrera will soon become the final member of the crew to join the sisterhood of mothers. This is because, on Jan. 1, Ferrera, alongside her husband, Ryan Piers Williams, announced that they're expecting their first child in the new year. Sure, you know Ferrera from some beloved sitcoms and movies, but some might be wondering who exactly Ryan Piers Williams is. As it turns out, you might have seen him in some indie films, but you just might not be as familiar with his name as you are with Ferrera's.
If you're a follower of Ferrera's Instagram, then you might have seen Williams on there once or twice (or like, a lot of times). Ferrera is pretty honest with followers about her life and doesn't try to hide the small details about it — like her relationship with her husband, or the fact that they're expecting their first child due this year. And judging from her Instagram, the couple could not look any more in love and happier to be together.
But before Ferrera and Williams welcome their child into this world, you might want to get familiar with the dad-to-be. Who knows? You might be seeing more of Ferrera and her longtime love in the new year.
He, Too, Is In The Entertainment Industry
Like his wife, Williams is in the entertainment industry. Williams is an actor, writer, director, and producer, who attended film school at the University of Southern California. He has created and starred in his own projects, like films X/Y and The Dry Land, his first film which premiered in 2010. Ferrera has actually played an integral part in his projects, starring in both of those films. Williams wrote, directed, produced, and starred in 2015 film, X/Y, and casted Ferrera as his love interest. X/Y is currently available to download on iTunes and made the festival circuit at the time of its debut.
Williams is super creative — in addition to working in the entertainment industry, he is also a painter, according to Moveable Fest, and debuted his work at an art show in 2015. Talk about being super talented.
He & Ferrera Have Been Together For A Very Long Time
In 2017, Ferrera and Williams celebrated their 12 year anniversary — which is a super long time for most couples in Hollywood. Ferrera and Williams are actually college sweethearts, according to Latina Magazine, and met while studying at the University of Southern California. Ferrera and Williams first met after he cast her in one of his student films, according to People. Ferrera told Latina Magazine about how this strengthened their relationship:
I first met Ryan while working on a short film that he was doing, so I think that a big part of our bond is the passion for what we do, so working together felt natural. It is something we both really care about and is important to us so it was a really good experience working together.
In the same interview, Ferrera spoke highly of her husband's work ethic to Latina Magazine:
He's always the hardest working person in any room and inspires everyone around him with his focus, passion, and energy. It's a lot of work to make a movie and to have to be the moral leader, and he does it with a lot of commitment.
He Is Super Charitable & Active
By looking at his Instagram, you can tell that he and Ferrera are both super charitable, promoting causes, organizations, and charities that they believe in. Williams and Ferrera, along with close friend Wilmer Valderrama, are the founders of Harness — an organization which connects "communities through conversation to inspire action and power change." Williams has also been a vocal supporter of DACA, Planned Parenthood, GSLEN, and attended the Women's March on Washington with Ferrera, who was a featured speaker.
If you weren't familiar with Williams before this, then you will be now.