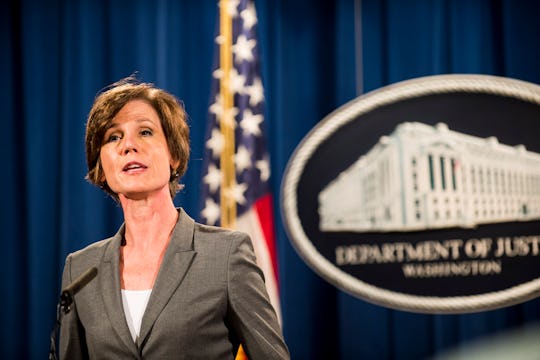 Pete Marovich/Getty Images News/Getty Images
Sally Yates Isn't Giving Up Without A Fight
After a weekend of impassioned protests targeted at President Donald Trump's controversial temporary refugee ban, the messages to the new White House about the immigration order are hardly dying down. And one of those messages is now coming from the nation's top lawyer: Sally Yates, the acting attorney general who has instructed the Justice Department not to defend the president's executive order banning travel for people from seven Muslim-majority countries while she holds the position.
Update: As of 8:16 p.m. Eastern Time Monday, according to Press Secretary Sean Spicer, Yates has been removed from her position as acting attorney general, following her order to Justice Department employees not to defend Trump's immigration order. "[The president] has named Dana Boente, US Attorney for the Eastern District of VA as Acting Attorney General. Sally Yates has been relieved," Spicer tweeted.
"I am responsible for ensuring that the positions we take in court remain consistent with this institution's solemn obligation to always seek justice and stand for what is right," Yates, who has been directing the Justice Department during the transition of Trump's administration, wrote in a letter sent to top lawyers at the Justice Department on Monday.
"At present, I am not convinced that the defense of the executive order is consistent with these responsibilities nor am I convinced that the executive order is lawful," the letter continued. "For as long as I am the acting attorney general, the Department of Justice will not present arguments in defense of the executive order, unless and until I become convinced that it is appropriate to do so."
Yates, an appointee of former President Barack Obama, will hold the position until Trump's appointment, Sen. Jeff Sessions, is confirmed, which is expected to happen as soon as Tuesday.
According to The New York Times, Trump could fire Yates if he wanted to, but she is the only one authorized to sign foreign surveillance warrants as she is "the top Senate-confirmed official at the Justice Department."
Yates' order follows nationwide protests at airports and a rally led by a group of Democratic lawmakers against Trump's executive order, which has sent shockwaves of chaos and confusion around the world in a matter of days.
Yates' disapproval also adds to a growing list of political leaders who have already criticized Trump's executive order, including Democratic Sen. Chuck Schumer, President Obama, and former Secretary of State Hillary Clinton.
According to CNN, Obama "fundamentally disagrees with the notion of discriminating against individuals because of their faith or religion." Meanwhile, Clinton condemned the ban and said that she stands with the protesters. "This is not who we are," she wrote in a tweet.
As a result of the executive order, citizens from Iran, Iran, Syria, Sudan, Libya, Yemen, and Somalia have been temporarily denied access into the United States, even if they had proper visas, documentation, and green cards upon arrival.
While Yates' orders may only last a short time — Trump's nomination for her position is expected to be confirmed soon — her letter symbolizes a deep political divide. And coupled with citizen protests at airport terminals nationwide, it's a strong message that Trump's order may not have been the best or wisest move.