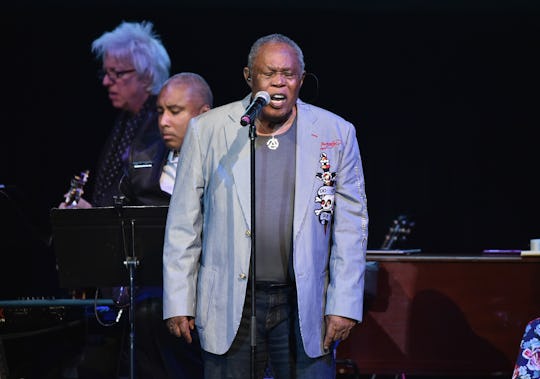 Theo Wargo/Getty Images Entertainment/Getty Images
About Sam Moore & The Inaugural Concert
Well, whether we like it or not, Donald Trump is set to be sworn in as our next president in less than 24 hours. And while the inauguration itself has yet to take place, Trump is already celebrating. The "Make America Great Again! Welcome Celebration" commenced the evening before the inauguration, and was packed with performances from different artists, as well as a speech from Trump himself. The performers for Trump's festivities have been somewhat of a source of intrigue these last few weeks, with a member of the Radio City Rockettes speaking out against being forced to perform, and Jennifer Holliday pulling out of performing due to alleged death threats, the performances of inauguration weekend festivities have been in the limelight, for a while now. But that didn't stop Twitter from freaking out when, Thursday evening, Sam Moore took the stage to sing "America the Beautiful" at the Lincoln Memorial during Trump's celebration. With the topic flooding Twitter feeds, many are wondering, who is Sam Moore? And is he a Trump supporter?
Moore, a tenor for Sam & Dave, an American soul and R&B duo that performed between 1961 and 1981, isn't just another singer plucked from a crowd — he's a Rock & Roll Hall of Famer and a Grammy Hall of Famer who was awarded the latter honor for his 1967 hit, "Soul Man." Regardless of this, it seems most people listening to his performance of "America the Beautiful" on Thursday night were either unaware of Moore's fame, or perhaps wary that he would be joining an already-fraught line-up — because, make no mistake, the frenzy surrounding inaugural performances has been heated.
While several of the performers at Trump's celebration have remained apolitical in the midst of the election, and the news that they were participating, some still have been vocal supporters of Trump throughout his campaign, such as Jon Voight, who spoke at the celebration Thursday evening.
Admittedly, it's hard not to politicize events in which politics are involved. It's not surprising, then, that performers and guests have had to bat away tough questions about their appearances. Some, however, have handled the pressure differently than others. Jackie Evancho, for example, has stated that, for her, "it's not exactly about the politics of the event, it's about the honor," in an interview with USA Today.
Along with Evancho's sentiments, Chrisette Michele, also issued a diplomatic statement in which she said: "I am willing to be a bridge. I don't mind 'These Stones', if they allow me to be a voice for the voiceless." Michele, who will be singing Friday at the National Mall, has received a lot of criticism for her decision to participate in the celebrations.
While many jokes have been made that the performers for Trump's celebrations aren't exactly A-listers, there will still be a lot happening these next couple of days.
And, really, who are we to judge what draws people to make the decisions they do? If Evancho and country star Toby Keith want to honor their country, then good for them. If Michele wishes to be a bridge, good on her.
Whether or not Moore is a Trump supporter, his voice remains, smooth, powerful, and important. With his solid performance on Thursday, he proved as much.