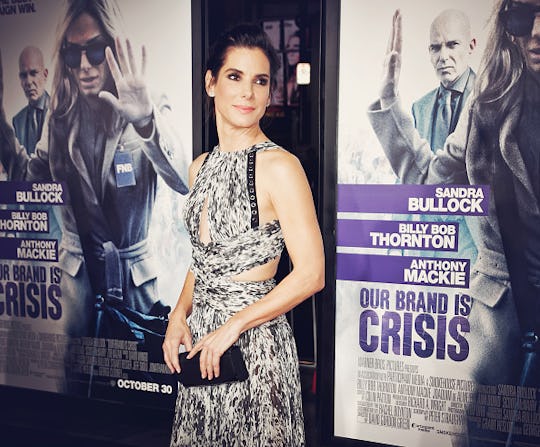 Who Is Sandra Bullock Dating? Here's What We Know About The Actress's Mystery Man
A certain celebrity family is quickly growing. On Dec. 2, Sandra Bullock told People that she has recently adopted a 3-year-old girl named Laila, giving her 5-year-old adoptive son Louis a sibling. Though the actress has been public about her family life, her love life has been more elusive. That is, until now, since this eye-opening interview finally let us know who Sandra Bullock is dating.
The cover photo of the A-list actress and little Laila was actually photographed by her boyfriend, Bryan Randall. His name has been the subject of speculation for some time now, as they were seen holding hands during a coffee date early last month. So, this interview seemed like the perfect opportunity verify what we all kinda knew and talk about her new family. "My family is blended and diverse, nutty, and loving and understanding." Bullock told People. "That's a family." Bullock used the feature to shine a light on the 415,129 children in foster care — Laila was in a Louisiana foster home prior to her adoption — and also talked about the process of adopting her 3-year-old daughter:
Louis spearheaded this whole journey...I knew she was scared, and all I wanted was for her to know Louis and I weren't going anywhere.
Though Randall was identified as her boyfriend, she didn't provide People with much more information, and understandably so. So, what do we know about Randall? For starters, he has quite a modeling resume. According to E! Online, Randall has modeled for Vogue Paris, Hugo Boss, and Saint Laurent. And he has also been snapped alongside people like Cindy Crawford and Lily Aldridge.
And, as evident from the People article, he does great on both ends of the camera. The Oregon native also reportedly owns Bryan Randall Photography, a successful L.A.-based photography company that focuses on children's photos.
He seems like quite the keeper, and we wish Bullock the best of luck with her new relationship and, of course, newest family addition.
Images: Tibrina Hobson/Getty