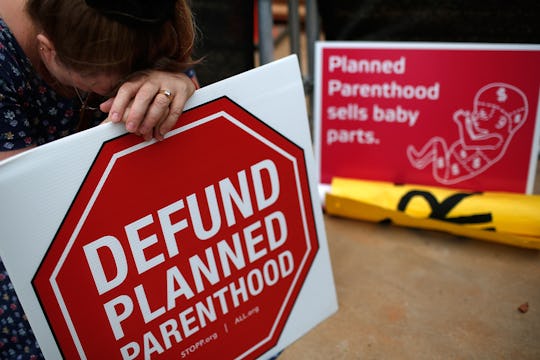 Win McNamee/Getty Images
Who Is Sandra Merritt? The Anti-Abortion Activist Behind The Planned Parenthood Videos Was Just Indicted
On Monday this week, the Harris County District Attorney's office cleared Planned Parenthood Gulf Coast of any wrongdoing in relation to accusations that the group had sold fetal tissue for profit. The decision occurred after a high-profile two-month investigation connected to an anti-abortion group which covertly (and reportedly illegally) shot videos of Planned Parenthood officials discussing the topic at a conference. In a surprising twist, the grand jury did decide to indict Sandra Merritt on one charge of tampering with a government record after the anti-abortion activist produced the secret video recordings in collaboration with fellow activist and Center for Medical Progress founder David Daleiden.
Under the law, Planned Parenthood is allowed to "be reimbursed for the costs of processing tissue donated by women who have had abortions," according to The Washington Post. In other words, the court found that Planned Parenthood did nothing illegal. In fact, it was Daleiden and Merritt who may have allegedly broken the law with their covert sleuthing — for "tampering with a governmental record, a second-degree felony" specifically, according to CNN. Daleiden was also indicted on the count of prohibition of the purchase and sale of human organs.
In short, it's another case of extremists allegedly maneuvering around legal hurdles to spread their agenda, which, if true, isn't cool.
Eric Ferrero, vice president of communications for Planned Parenthood Federation of America, said in a statement that Planned Parenthood was pleased with the court's rulings. "As the dust settles and the truth comes out, it's become totally clear that the only people who engaged in wrongdoing are the criminals behind this fraud, and we're glad they're being held accountable," said Ferrero.
Although Planned Parenthood has been cleared, Daleiden's and Merritt's alleged stunt helped fuel the Republicans' desire to defund Planned Parenthood. Though that mission has so far been unsuccessful and the court has instead turned the tables on Daleiden and Merritt, the fight against Planned Parenthood, a family planning institution that provides many women with low-cost OB/GYN needs, seems so misguided. After all, pregnancy termination (which under the Constitution is legal, remember?) is only one of the services Planned Parenthood offers women. It offers everyone an opportunity to access the things granted to them through Civil Rights.
Planned Parenthood recently filed a lawsuit against Daleiden and his Center for Medical Progress for alleged criminal misconduct as well, doubling the pressure on both the activist and Merritt. According to Newsday, Daleiden told the Associated Press that "he looked forward to confronting Planned Parenthood in court." No word yet on how Merritt is coping with either one.
Images: Win McNamee/Getty Images