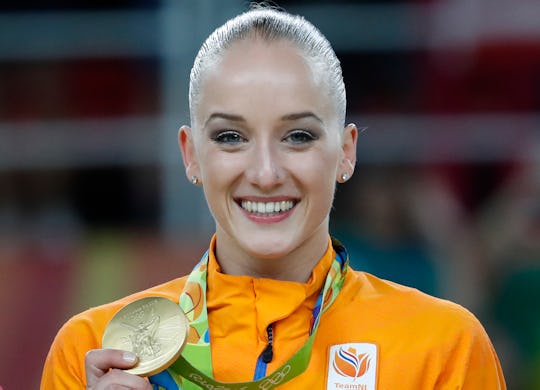 THOMAS COEX/AFP/Getty Images
Who Is Sanne Wevers? She Took Gold On The Balance Beam
Sanne Wevers has just made history: she's the first Dutch woman to win an Olympic medal. She won a gold medal for her balance beam performance earlier today, scoring a 15.466 and defeating front-runner Simone Biles. Gymnasts from Team USA have been receiving a lot of attention during this year's Olympics, but who is Sanne Wevers?
Born September 17, 1991 in The Netherlands, Sanne Wevers is actually a twin: her sister Lieke is also a gymnast who won a gold medal on the balance beam and a bronze medal with the Dutch team at the 2015 European Games. Lieke is also competing this year in Rio. Sanne made her professional debut in gymnastics at the Junior European Championships in 2004.
She has proved to be one of the most formidable competitors on the balance beam. She won silver on beam at the Ostrava World Cup in 2012, and, in 2013, won gold on beam at the Osijek World Cup. She also won the silver at the 2015 World Artistic Gymnastics Championships for her balance beam performance. According to Elle, in 2015 both Sanne and Lieke helped the Dutch team earn a spot at the Olympics for the first time since 1976.
Sanne and Lieke are both coached by their dad. Despite that, the two were never able to compete together until 2014, at the European Championships. That's because the two have each faced their share of injuries, keeping them out of competitions. In 2009, Sanne had an elbow injury that kept her from competing for the rest of that year, and in 2012, she had a foot injury.
"It feels very nice to have my sister close to me on the floor, instead of her supporting me from the stands," Sanne told International Gymnast Online in 2014. "I hope we can help each other a lot, and perform the best we can!"
Sanne Wevers' gymnastics performances have been compared to dancing. Inside Gymnastics called her "graceful," and writes that she knows how to "turn beam into ballet." Sanne has an original balance beam move named after her: a double L turn, which is a difficult spin with two turns with one leg held up horizontal to the beam. She initially performed this skill at the 2010 World Championships. The artistry in her routines make her performances beautiful to watch.
She's also been featured in the Dutch version of Vogue, and the series The Hard Way to Success, which spotlights different athletes paths and sacrifices for their sport.
Because of her age, this may be Sanne's last year at the Olympics.
"We don't have much time left in gymnastics. We are 23 and Rio is our ultimate goal to pursue together," Lieke said in an interview in 2015, Elle reported. Now 24, Sanne has stolen the spotlight from gymnastics' most popular icon — so rather than winding her career down, it looks like she's going out with a bang. A beautiful bang.