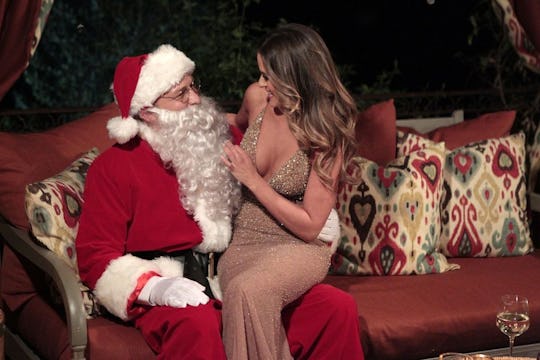 Rick Rowell/ABC
Who Is Santa Claus On 'The Bachelorette'? Nick B. Is Definitely In The Spirit
There's a lot to be said about having a memorable limo exit on the first night of The Bachelorette. It could make or break your chance at finding true love, on TV, in front of millions of people. If you play it too-cool-for-school, you might get looked over. If you go too far with it, you might be escorted out by security. But what about childhood fictional characters? Where do they fit into this? When the cast list of The Bachelorette was announced and one of the men looked very ho-ho-honored to be there, I have to ask who is Santa Claus on The Bachelorette, and what joke has he prepped for months in order to skirt the line of funny and memorable and just plain weird?
I look forward to The Bachelorette cast release each spring. It's the time of year when everything starts to make sense again. New faces, ready for love, the anticipation of JoJo finding what she set out to look for over a year ago.
But, then the cast photo was released, and things took an interesting turn. Sure, there were a lot of handsome men smiling back at me through my computer screen. This is The Bachelorette, after all. But then there's the guy on the far left. The jolly looking one, with the white beard.
So, who is the mystery man behind the Santa suit? That would be Nick B. one of two Nicks on the season.
The idea of dressing up as Santa Claus is interesting, but not entirely new to the show. Sure, I can't remember another St. Nick showing up on night one, but there have been hidden identities before, like the guy who wore a mask for too many episodes. Nick B.'s plan is probably to stand out, and sorry John in the kilt, Nick B. is stealing your limelight.
So, what is there to know about Nick B.? Well, he's an electrical engineer, so he's not like a professional Santa Claus if that's what you were worried about. His favorite magazine is Ducks Unlimited, and if you're wondering what that is, allow me to enlighten you. It's literally a magazine about ducks. Maybe this is an inside joke with himself... More over, Nick seems confident, as he's already saying his favorite flower are the red roses he'll get from JoJo.
But will his holiday garb win JoJo over? In the photos of the two of them from night one, it doesn't seem like she's totally turned off by the Santa costume, but let's just hope that he drops the act and actually reveals himself before things get weird.