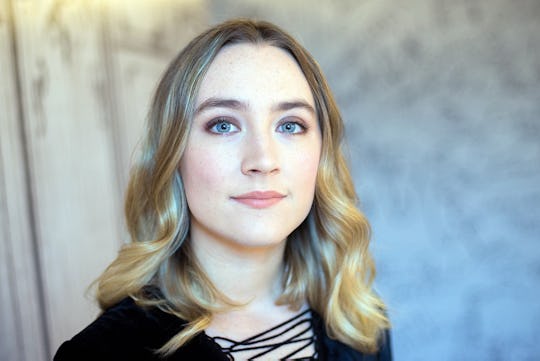 Mike Pont/WireImage/Getty Images
Who Is Saoirse Ronan Dating? She Is Focusing On Her Impressive Career
There's been plenty of speculation about the love life of Irish beauty Saoirse Ronan over the span of her time in the spotlight. But that's not even close to being the most interesting thing about her. The 21-year-old actor has just been nominated for her second Academy Award for her performance in Brooklyn. Her last nomination was in 2007 for Atonement. She's been in tons of other movies including The Lovely Bones and is currently in rehearsals for The Crucible on Broadway. I don't know about you, but I wasn't exactly this accomplished in my early 20s. So, as these things usually go for famous actors, all their accomplishments tend to be overshadowed by who their coupling up with. So, fine — just who is Saoirse Ronan's dating? She doesn't have one. Yep, this lovely lady is on the market.
In the past she's been linked to George MacKay, her co-star in How I Live Now, but currently she says she's unattached. Ronan gave an interview last fall and opened up about looking for love. She's not on Tinder and has never been on a blind date. Instead, it seems she's content with staying within the acting dating pool, telling The Herald it's "common" for actors to fall for each other, just because of all the time you spend together and the inevitable friendships that forges. And friendships among young, beautiful, single people tend to develop into a little something more.
When talking about her role in Brooklyn, Ronan added that she and her co-star Emory Cohen had to watch how touchy the two behaved, saying people in the 1950s weren't nearly as physical with one another in everyday situations.
"We're quite cuddly now," she said, "especially actors — all hugs and kisses."
One thing is for sure, this talented young woman isn't going to have a hard time finding love whenever she's ready. It might also be interesting to keep an eye on who she brings with her as her plus-one to the Oscars ceremony, and if there's any real-life chemistry between Ronan and Cohen. But Ronan's real accomplishments have nothing to do with who she's dating — the fact that such a young woman has won so much acclaim for her work in her short 21 years stands entirely on its own.