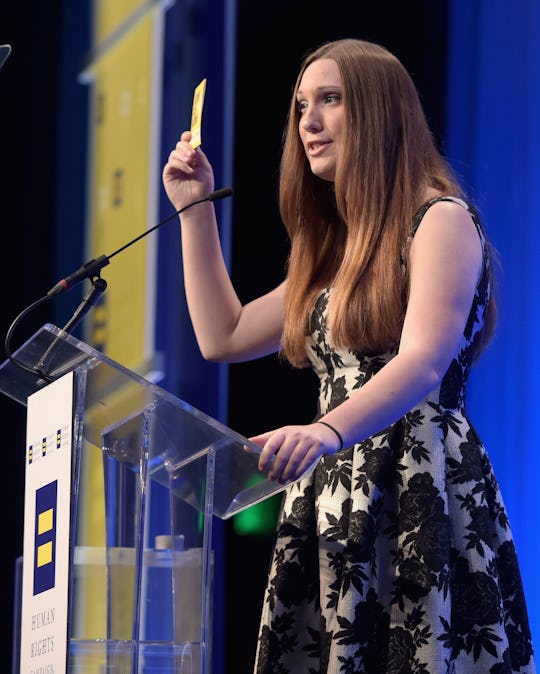 Jason Kempin/Getty Images Entertainment/Getty Images
Who Is Sarah McBride? The Human Rights Secretary Is Making History At The DNC
President Barack Obama's administration has overseen a time period in which LGBTQ civil rights have seen incredible advancements. It's no surprise, then, that activist Sarah McBride, the first openly transgender person to speak at a major party convention, will take the stage during the first night of the Democratic National Convention (DNC). Who is Sarah McBride? As the Human Rights Campaign's (HRC's) national press secretary, McBride has become known as an advocate for the transgender community, as well as a vocal supporter of Democratic presumptive nominee Hillary Clinton.
McBride first became known nationally in 2012, when she was serving as the student body president at American University in D.C. After struggling for years with the decision to come out both publicly and privately as a trans woman, McBride shared her identity with the world in the form of an op-ed at her University's newspaper, according to McBride's 2013 TEDx lecture.
"I remember as a child, lying in my bed at night praying that I would wake up the next day and be a girl, to be my authentic self, and to just have my family be proud of me," McBride shared during the moving lecture. According to McBride's staff bio at the Human Rights Campaign's website, the 25-year-old immediately jumped into politics and advocacy upon graduating; prior to her current position with HRC, McBride worked at the Center for American Progress, and was the first openly trans woman to intern at the White House.
McBride's work in the political arena predated her public identity as a trans woman. In 2008, while still a teenager, McBride worked for Delaware Gov. Jack Markell, according to her HRC bio. She later became part of the successful campaign that led to the 2013 passage of Delaware's Gender Identity Nondiscrimination Act, which added the category of gender identity and expression to laws protecting individuals from discrimination in employment, housing, public accommodations, public works, contracting, and insurance, according to ThinkProgress.
Currently, McBride serves on the steering committee of Trans United for Hillary, which HRC defines as "a volunteer effort dedicated to educating and mobilizing transgender people and their allies in support of Hillary Clinton." (In the photo, below, at McBride's Instagram account, she poses third from the left with fellow Trans United members.)
McBride serves as an excellent representative for the trans community at the DNC in part because, as a trans woman who has served for many years in the political realm, she connects the fight for LGBTQ rights to the fight for gender equality. During her 2013 TEDx lecture, McBride spoke about her experiences during what she characterized as her "path to womanhood," describing that,
... I had been so, understandably, consumed with the transphobia that would come my way, I didn't fully realize the misogyny and sexism I would face... You're treated like both a delicate infant and a sexualized idol in the same instant. Your thoughts are dismissed and your emotions minimized. Your insecurities emphasized and your body objectified. The simple and mundane decisions that I never had to think about in the morning before, soon became central to avoiding a thousand judgments... And it became clear very quickly that the same forces that say, "no, you are not a woman" are the same ones that say there is only one way to love, only one way to act, only one way to live, only one way to dress, only one role to play.
Given McBride's unique background and life experiences — not to mention her bravery in becoming one of the youngest public figures in the fight for trans rights — it's safe to say that her DNC speech is eagerly awaited, and will surely remind us all exactly what the Democratic Party represents.