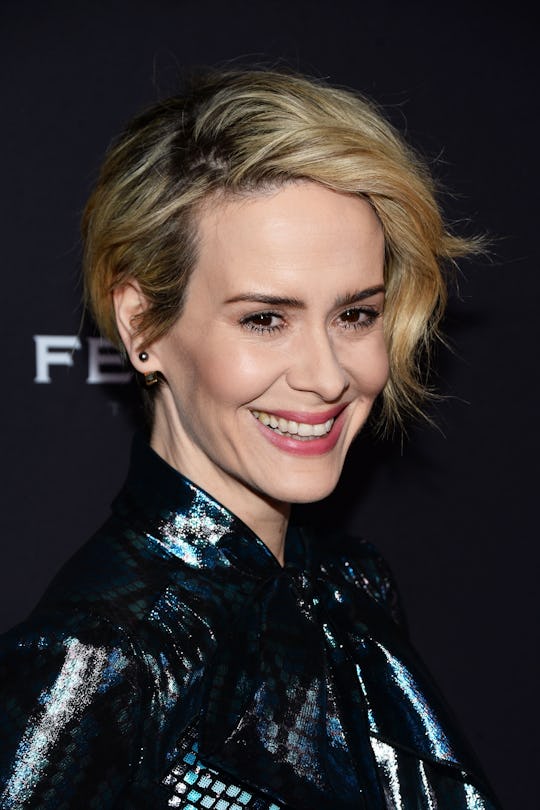 Matt Winkelmeyer/Getty Images Entertainment/Getty Images
Who Is Sarah Paulson Dating? Holland Taylor Is An Emmy Winner
The last few years of Sarah Paulson's career have been some of the best. Her portrayal of Marcia Clarke on The People vs. O.J. Simpson: American Crime Story earned her rave reviews (and an Emmy nom!), and she continually owns it every year on American Horror Story. With film roles in Carol and 12 Years a Slave, Paulson has been adding credit after credit to her already impressive career. But is her personal life flourishing as much as her professional one is? Is Sarah Paulson dating anyone – and if she is, who?
For the last year or or, Paulson has been dating fellow actress Holland Taylor, who you may remember from shows like The Practice and Two and a Half Men (as well as a memorable turn in Legally Blonde). Though they met a decade ago at a dinner party, Paulson was in a relationship with actress Cherry Jones at the time. When Paulson first saw Taylor, she said Taylor was "probably the most exquisitely beautiful woman I'd ever seen." Try not to aww – just try.
Recently, Paulson and Taylor reconnected and they've been happy together ever since, though the relationship has received its fair share of media attention because Taylor, at age seventy-three, is thirty-two years older than Paulson (41).
Paulson said that most of her serious relationships have been with people older than her; ex-girlfriend Jones was eighteen years older than her, too. "There's a poignancy to being with someone older," she told The New York Times. "I think there's a greater appreciation of time and what you have together and what's important, and it can make the little things seem very small."
According to Taylor, the two women have discussed getting married. "I would not do that publicly," Taylor said in an interview with WNYC. "My relationship is with a woman, and I have not – given my generation it would not be something that would automatically occur to me. But she's mentioned it because just from a spiritual point of view, from a heart point of view... As a deed that has a very rich symbolic gesture to it, it has its attraction. But it's been a very casual conversation at this point."
Taylor and Paulson have also been seriously adorable on Twitter in the past, even before announcing that they were together. Though their relationship may seem unconventional to some, it's clear that they make each other happy.