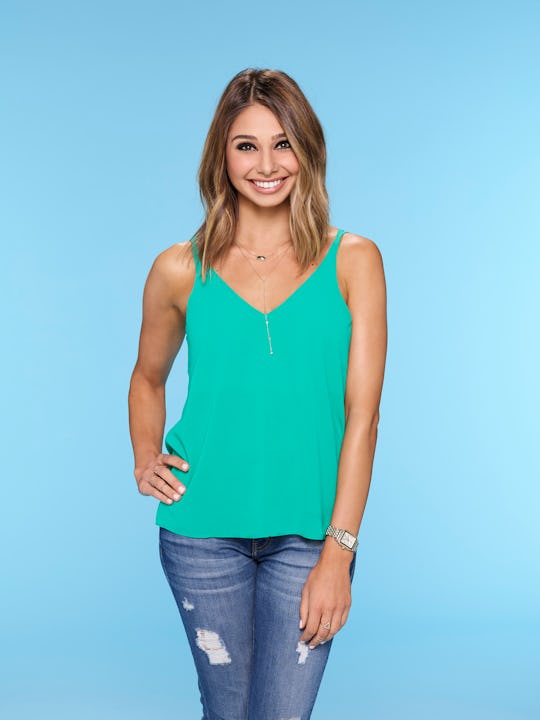 Mitch Haaseth/ABC
Sarah Vendal Is On A Mission To Find Love In 'Paradise'
In Bachelor Nation, viewers never really say goodbye. Thanks to Sugar Bear Hair sponsorships and podcasts, they're blessed with being able to see contestants who didn't win over (and over) again. Oh, and Bachelor in Paradise helps too, of course. Fans of Sarah from Nick's season will be excited to learn that she'll be returning to their television screens for another chance at love. And for those who don't remember Sarah, this is an opportunity to see how she fares in Paradise. Who is Sarah Vendal on Bachelor in Paradise? Her entrance on The Bachelor premiere was pretty memorable.
According to her ABC biography, Sarah was a then-26-year-old grade school teacher originally from California. When she was asked the most outrageous thing she's ever done, she said, "Maybe this, or moving to New York City with 3 bucks, 2 bags, and 1 me." So, Sarah's a risk taker — and that actually showed in her entrance. During the season premiere, she did not exit the limo to meet Nick. Rather, she ran up to him wearing a gown and running shoes: a "runner-up" joke, referring to Nick's status as a runner-up during his two times on The Bachelorette. Nick was a good sport, and thought it was funny.
Unfortunately, Sarah didn't make it to be runner-up — or even come close for that matter. She was eliminated after Nick and the contestants went to Wisconsin (Nick's home state). In an interview with former Bachelorette Ali Fedotowsky, Sarah said she had an intuition that something wasn't right after she and Nick had a conversation. She had a "gut feeling" that she was going home, and she ended up being correct. Going to Wisconsin and on the farm group date, she had no idea it would come to that... but as she had time with Nick, she had a sense that she wasn't going any further. So at least she wasn't completely thrown off by it, which is something, I suppose.
Now, Sarah is back in Bachelor Nation to try to fall in love with a cast-off from The Bachelorette. Judging by how quickly Paradise films (in under three weeks, believe it or not), it's unknown whether Sarah will be successful. Hopefully, if nothing else, fans will be able to learn more about her — besides the fact that she made a great joke at Nick during her first appearance on the show.