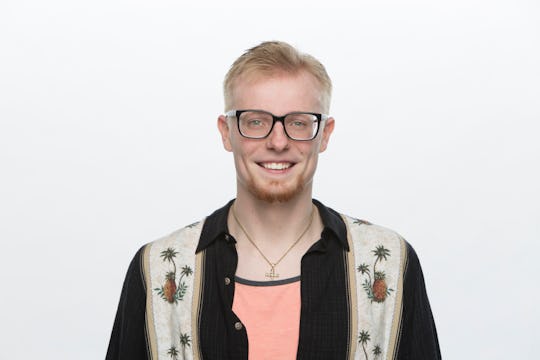 Sonja Flemming/CBS
Scottie Salton On 'Big Brother' Has A Different Kind Of Game Plan
It's finally here! The new season of Big Brother has arrived, which means a whole new group of houseguests are coming and they're a very mixed group. One of the new houseguests is Scottie Salton, but who is Scottie on Big Brother?
Scottie is 26 years old and grew up in Shorewood, Illinois but now lives in Chicago where he works as a shipping manager. In his cast bio, Scottie described himself as energetic, odd, and persistent. His favorite activities are disc golf, CrossFit, and watching movies. Scottie believes the most difficult part about living inside the Big Brother house is people talking about him behind his back. "The mix of friendliness and the potential backstabbing will probably get me a little shook," he said in his bio.
As for his favorite past houseguest, Scottie chose Evel Dick, the winner of Big Brother 8. "I like players who can win comps and can put their personality into their strategy," Scottie said. "I also like players who can back up their talk. I also felt like [Evel] was genuinely himself, and I respect that."
When it comes to Scottie's strategy for winning the game, his plan is pretty simple. "I want to knock out the floaters and butterflies first," he said. "I feel the more competitive, big-game players I keep in the house, the more people will be stressed out. I'd rather make it an upfront contest than a 'chess' match."
Scottie's strategy is certainly different, as it's usually in players' best interests to get the more competitive players out of the way first than have to face off against them towards the end. Additionally, by getting rid of the floaters early on, Scottie could be getting rid of essential votes for eviction and later in jury. That said, perhaps Scottie's strategy will work in his favor. With Big Brother you never really know.
Scottie's life motto is, "When the shark is hungry, he eats!" If he could bringing anything into the house he would bring a disc golf and his basket discs. Some fun facts about Scottie include he got catcalled while working at an AMC theater during Fifty Shades of Grey; he's a 26-year-old virgin who has never been kissed; he got grounded when his brother threw up on him; and he got into an argument with a customer at AMC. Obviously, a lot goes down at his neighborhood AMC.
It's be interesting to see how much info Scottie decides to share with his fellow houseguests since all they'll know about him when he comes in is his first name. Will he share the fact that he's a virgin and has never been kissed? That could certainly endear him to some of the other houseguests, particularly the women. This could also make him seem like less of a threat to the guys in the house, because for some reason people equate sexual prowess with strength. In any case, it's doubtful this revelation will hurt Scottie's game in any way so he might as well use it.
As for his other fun facts, they probably won't be relevant in the house, though they could make for good storytelling when there's time to kill in the house, which will certainly happen. One of the main reasons people get into fights in the house is because there's so much downtime between competitions and nomination ceremonies, so the houseguests have plenty of time to talk to each other. This downtime is typically when votes are flipped and plans are made, but sometimes it's just plain boring. Thus, if Scottie has something funny to share that'll be entertaining it could up his social game in the house.
You can see how Scottie uses his fun facts to his advantage when Big Brother 20 premieres on Wednesday night at 8 p.m. EST on CBS.