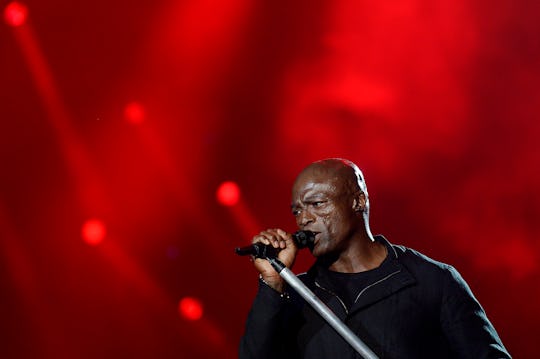 Alexandre Loureiro/Getty Images Entertainment/Getty Images
Who Is Seal Dating? He And His Girlfriend Have Been Together For A Few Months
Well, it's safe to say that Seal knows a thing about kisses — especially heard best in his song "Kissed By a Rose," am I right...? All corny dad jokes aside, you're going to be hearing Seal's name a lot more after Sunday. Seal is playing Pontius Pilot in the FOX and Tyler Perry musical collaboration of the year, The Passion, which aris on Sunday, March 20. The singer will be showing off his stellar pipes and participating in the event for all of the world to see. The tall, dark, and handsome man will likely be the talk of the Internet on Sunday night, but I have to wonder right now — does Seal have a girlfriend? He and his girlfriend, Erica Packer, have only been together for a few months, but they've been photographed a lot together.
Everyone remembers Seal and Heidi Klum's marriage. How could you not? They always seemed like the picture-perfect couple, with the beautiful, model-like children to match. However, things aren't always what they seem. The two married in 2005 and had four kids together, before divorcing in 2012 after seven years together.
Seal and current girlfriend, Erica Packer, have been spotted together as recently as mid-2015, when the two were seen on vacation. There is no denying that Seal is in a relationship with Packer. Paparazzi photographers have spotted the two out on vacation together multiple times.
So who exactly is Erica Packer?
According to People, Packer was married to billionaire casino mogul and Australian James Packer from 2007 to 2013. Seal and Packer were spotted on vacation in August 2015 just months after getting together — and it looked like things moved fast. In August 2015, Heidi Klum commented on their relationship to Entertainment Tonight. Said Klum: "She seems lovely and I wish him all the best," which, to be honest, is a wonderful thing to say about your ex-partner so publicly, considering that her kids are definitely going to one day read about their parents on the Internet.
In January, Packer and Seal were spotted at LAX just narrowly missing Klum. The couple had their own children in tow and appeared to be very happy together. Most recently, Seal and Packer were spotted eating frozen yogurt with both groups of their children — Packer has three and Seal has four —in Brentwood, Calif. just earlier this week. The couple looked very, very happy together. And honestly? Good for them.