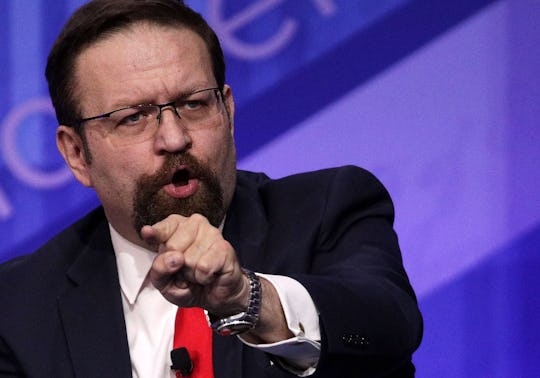 Alex Wong/Getty Images News/Getty Images
Sebastian Gorka Denies Allegations Of Nazi Ties
Another controversy is brewing in President Donald Trump's administration. The center of the controversy is Sebastian Gorka, a White House national security adviser. So who is Sebastian Gorka?
Gorka's father fled Hungary before he was born to escape communism, according to his biography at The Institute of World Politics. Gorka was born in London, and became a naturalized United States citizen in 2012. He served as a national security adviser to the U.S. Special Operations Command, U.S. Army Special Operations Command, and NATO. Currently, he is a White House national security aide in the Trump Administration.
Gorka has been a controversial figure in the past, with some national security experts questioning Gorka's credibility, Business Insider reported. But now Gorka is much more controversial than ever.
On Thursday, a report from The Forward claimed that Gorka is a member of Historical Vitézi Rend, a Hungarian group that was connected to the Nazis during World War II. The White House did not immediately respond to Romper's request for comment on the allegations against Gorka.
Some believe he has worn a medal associated with the group, but Gorka denied these reports in an interview with Tablet magazine. "I have never been a member of the Vitez Rend," he said. "I have never taken an oath of loyalty to the Vitez Rend. Since childhood, I have occasionally worn my father's medal and used the 'v.' initial to honor his struggle against totalitarianism."
Several leaders have had strong reactions to the reports. Some have called for Gorka to be removed from his position if the allegations are true. Rep. David Cicilline told BuzzFeed News:
I'm angered, but not at all surprised, that another person with ties to Nazis and white supremacists is working in a key position in Donald Trump's White House. [Sebastian] Gorka needs to resign...And until that happens, Donald Trump will still be sending a horrible message about who he's really fighting for.
USA Today reported that a spokesperson for The National Jewish Democratic Council said that it seems like Trump "failed to vet one of his most trusted advisers."
"This administration has staff with shockingly anti-Semitic pasts and it is hard to imagine that they have nothing to do with the horrifically weak reactions to anti-Semitic hate crimes that we see coming from this administration," Steven Goldstein, executive director of the Anne Frank Center for Mutual Respect, told Buzzfeed News.
There has been a rise in anti-Semitic incidents and hate crimes against Jews ever since Trump took office. But many feel that the Trump Administration has not done enough to condemn anti-Semitism.
An unnamed source close to Gorka told Tablet that Gorka refused to speak with The Forward to deny the claims because "the allegations were so blatantly false and so aggressively poorly-sourced, [he believed] that no responsible journalist would ever publish them."
He added: "Is Seb Gorka, whose family literally bears the scars of anti-fascist fights, a secret Nazi cultist? Come on now." Though the allegation is going viral, it's important to remember that actual evidence against Gorka is thin, at best, and otherwise non-existent.