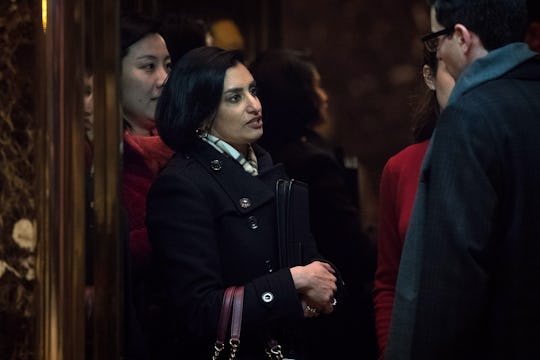 Drew Angerer/Getty Images News/Getty Images
Who Is Seema Verma? Trump's New Head Of Medicare & Medicaid Expanded Coverage In Indiana
President-elect Donald Trump continues to fill out his Cabinet with a host of controversial picks. On Tuesday, he announced a few more people who will soon be shaping our government, including Seema Verma to head the Centers for Medicare and Medicaid Services. But who is Seema Verma, and is her nomination as worrisome as some of Trump's other picks? Combined with Representative Tom Price, who Trump picked to be his new secretary of Health and Human Services, Verma has the potential to make some big changes to healthcare as we currently know it.
Verma's main experience comes from founding and serving as the CEO of a health policy consulting company SVC Inc. Through SVC, Verma most famously worked with Vice President-elect Mike Pence to expand Medicaid in Indiana under the Healthy Indiana Plan 2.0, and she's consulted with a whole host of other states to help them add more conservative elements to their own health programs under the Affordable Care Act.
Her work on expanding Medicaid under the ACA in Indiana forms an interesting and somewhat surprising back story for a person tapped to lead in an administration that many fear will get rid of healthcare altogether for millions of Americans.
Indiana's Medicaid policy helped cover more people below, at, or near the poverty line in the state. And, at least according to its proponents, it saved the state money while sending more funding towards hospitals. The plan required most enrollees to pay money into health savings accounts, although for many enrollees below the poverty line, that amount was as little as $1 a month. If Medicare recipients above the poverty line did not contribute money, they would lose their coverage and not be allowed to reapply for six months, while recipients below the poverty line who failed to contribute were put on a more restrictive plan, lacking benefits like dental coverage.
The plan that Verma helped design and implement was not without its critics, with some claiming that it was confusing to many would-be recipients. And don't forget that it was enacted under the mantle of the ACA, so it took advantage of the government funding that the law provided. If Verma doesn't have to work around President Barack Obama's law (and if she doesn't necessarily have that government funding at her disposal), it gets a little harder to tell what she might want to do to Medicare and Medicaid. She will be working under Tom Price, after all, who has spent years figuring out how to get rid of the ACA.
One thing is certain. Big changes are coming.