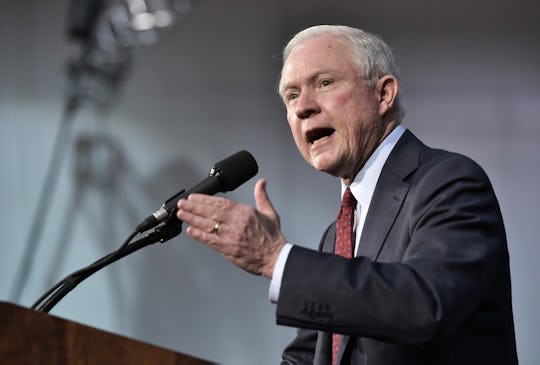 MANDEL NGAN/AFP/Getty Images
Who Is Senator Jeff Sessions? Trump Offered Him Attorney General
So far, President-elect Donald Trump's appointments haven't exactly been ones that have gone over well with the American public. The news that former Trump campaign CEO Steve Bannon will be the new chief strategist and advisor to the president outraged many who argued that he was a racist and a white nationalist, and now, Trump's reported choice for attorney general is receiving similar criticism. Who is Senator Jeff Sessions? According to CNN, Sessions is currently serving his fourth term in the Senate, and was previously Alabama's Attorney General. He is a also a staunch, right-wing conservative who has strongly opposed immigration, and was one of the first senators to endorse Trump as a presidential candidate. Though Trump has reportedly already offered him the attorney general position, it's not yet known if Sessions has officially accepted — and Republican National Committee spokesman Sean Spicer told CNN, "until Donald Trump says it, it's not official."
According to The Guardian, Sessions met with Trump at Trump Tower in New York on Wednesday, and it sounds like the meeting went extremely well. On Thursday, Trump's team said in a statement that "the president-elect has been unbelievably impressed with Senator Sessions and his phenomenal record as Alabama's attorney general and US attorney," and added that "it is no wonder the people of Alabama re-elected him without opposition."
The problem, though, is that, like Bannon, not everyone is likely to be as impressed with Sessions as Trump apparently was. One reason why? Sessions also allegedly has a history of making racist comments, and was even passed over for position as a federal judge because of it, according to The Huffington Post. In 1986, Sessions was nominated for a judgeship, but in the confirmation hearings, J. Gerald Hebert, an attorney who had worked with Sessions, was asked to testify about whether Sessions had made inappropriate racial comments. Transcripts of the hearing show Hebert testifying that Sessions had said that a white civil rights lawyer was "maybe" a race traitor, and had also allegedly said that the NAACP and ACLU were "un-American," and "communist-inspired," and that "they did more harm than good."
The late former assistant U.S. attorney Thomas Figures also testified in the hearing, and said that Sessions had once told him that civil rights organizations were "teaching un-American values." Figures (who was at the time the only black assistant U.S. attorney in the office) also said that Sessions had once told him to "be careful what you say to white folks," and that Sessions had referred to him as "boy," on multiple occasions. Sessions denied this, but Hebert told The Huffington Post he wasn't surprised by Figures' claim, because "[Sessions] demonstrated gross insensitivity to black people." (Romper's request to Sessions for comment was not immediately returned.)
But even if we were to ignore Sessions' history, his current policies and views are still concerning. According to The Washington Post, in the past twenty years that he has served in the Senate, Sessions has opposed nearly every immigration bill, including one that would have created a path to citizenship for undocumented immigrants (it's probably unsurprising then, that Sessions referred to Clinton's proposed immigration plan as "radical" and one that "furthers lawlessness," according to a Senate news release).
Sessions has also opposed legal immigration programs, according to The Washington Post, including guest worker programs and visa programs for foreign workers in STEM fields. And, in a 2015 op-ed, Sessions wrote that "legal immigration is the primary source of low-wage immigration into the United States," and argued in favor of "slowing the pace of new arrivals so that wages can rise, welfare rolls can shrink and the forces of assimilation can knit us all more closely together."
And, like Trump, Sessions also doesn't particularly seem to believe in climate change, despite the scientific community being overwhelmingly in agreement that it's an immensely pressing issue. According to Think Progress, at a 2012 Senate hearing on climate change, Sessions refuted the claim that "roughly 98 percent of climate scientists" believed climate change was serious, and said that he was "offended" by that idea.
Sessions has also supported Trump's proposed ban on Muslims, according to BuzzFeed, and in an interview with Breitbart Radio, Sessions said that Trump had begun an "appropriate" conversation about immigration by making the controversial remarks:
He's treading on dangerous ground because Americans are so deeply committed to freedom of religion, that is a major part of who we are. But at the same time, we're in an age that's very dangerous and we're seeing more and more persons enter and a lot of them have done terrorist acts.
Their faith commands them to do these things. They're not committing suicide on the assumption that this is the end, they're doing it because they believe their faith will reward them for doing it. So I think it's appropriate to begin to discuss this, and he has forced that discussion.
Neither Trump nor Sessions have commented publicly on the appointment, but an official confirmation certainly doesn't seem far off. And, unfortunately, it sounds as though Trump has once again added another divisive, extremely conservative member to his Cabinet, who subscribes to views that will be seen as deeply offensive to many Americans moving forward.