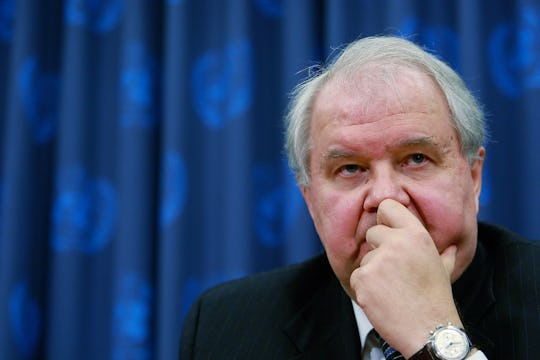 Mario Tama/Getty Images News/Getty Images
The Russian Ambassador Behind All Those Scandals
There's been a lot of talk in the media about President Donald Trump's connection with Russia and whether his administration had been in contact with the country during his campaign. Much of the attention has focused on Russian President Vladimir Putin, but another name that's been thrown into the spotlight recently is Sergey Kislyak, the Russian ambassador to the United States. The 66-year-old diplomat has found himself in the center of the White House scandals that led to former national security adviser Michael Flynn's resignation and has now inadvertently landed Attorney General Jeff Sessions in some very hot water.
According to Politico, Kislyak has been "Moscow's man in Washington" for nearly a decade and works as Putin's eyes and ears in the capital. While he has kept a low profile, Kislyak's reported contact with Trump's team has made him one of the most talked about people on the Hill right now.
The ball got rolling after a wiretap captured a phone conversation between Flynn and Kislyak about the Obama-enforced sanctions against Russia and Flynn urged the Russian ambassador not to retaliate, according to USA Today.
Flynn did not tell the White House about these conversations and the White House, in turn, eventually asked him to resign because of an "evolving and eroding level of trust… and a series of other questionable instances," press secretary Sean Spicer said at a press conference following the president's decision.
Sessions also has a connection to Kislyak. According to The New York Times, the attorney general met with the Russian ambassador twice last year: once in July 2016 and again in September 2016. Both meetings took place while Sessions was still a senator and the chairman of Trump's national security advisory committee, though he failed to mention the visits during his confirmation hearing.
It's not clear what the two men talked about at those two meetings and Sessions denied allegations that they discussed the 2016 presidential election. "I never met with any Russian officials to discuss issues of the campaign. I have no idea what this allegation is about. It is false," Sessions said in a previous statement, according to CNN.
Although many political figures from both parties have called for Sessions' resignation, he announced Thursday afternoon that he had recused himself from any current or future investigations into reports of Russian hacking in the 2016 presidential election.
So why would contact with Kislyak be concerning? CNN reported that Kislyak is considered by U.S. intelligence to be "one of Russia's top spies and spy-recruiters in Washington," although Russian officials don't agree with this characterization.
According to Politico, Kislyak is "an engineer by training" and started his experience in the United States in the early 1980s when he worked for the Soviet mission at the United Nations in New York City, and later with the Russian Embassy in Washington.
Kislyak has commented previously about relations between Moscow and Washington and as recently as November he said that the two nations are "living through the worst time in our relationship" and that "we have learned to live without you and you have learned to live without us," according to CNN.
While Kislyak is at the heart of these scandals, he's an experienced diplomat who represents Russia. There are some aspects of his job description that are concerning, but the problem appears to largely lie within the Trump administration and the many omissions that continue to surface.