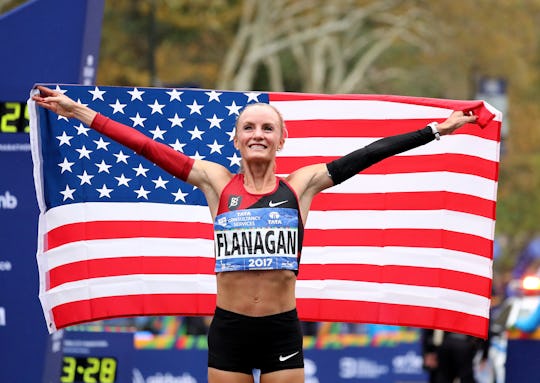 Elsa/Getty Images Sport/Getty Images
Shalane Flanagan Becomes The First American To Win The Women's NYC Marathon Since 1977
The New York City marathon is a tradition that celebrates sportsmanship and hard work. But it's also about winning, too. This year, Shalane Flanagan became the first American woman to win the NYC marathon in decades. Flanagan's unofficial time was two hours, 26 minutes, and 53 seconds, which is an insane amount of time to run through New York's five boroughs. She beat the three-time defending champ Mary Keitany of Kenya.
The last American woman to win the race was two-time winner Miki Gorman in 1976 and 1977. "It's indescribable,'' the 36-year-old Flanagan said, according to ESPN. "It's a moment I'm trying to soak up and savor.'' Flanagan's been going at it for some time. She finished second in her first marathon in 2010 but hadn't run the race again since.
According to The New York Times, she finished sixth in the Rio Games and had a fracture in her lower back, which meant that she had to sit out the Boston Marathon this year and focus only on winning the NYC race this Sunday. According to ESPN, Flanagan, Keitany, and Ethiopia's Mamitu Daska were the clear front runners throughout the race and were "step-in-step" until the 24th mile.
Flanagan was reportedly already emotional as she neared the finish line in Central Park, according to ESPN.
Flanagan has said in the past that she might retire if she won the NYC marathon, but she didn't address any of that on the podium after the race. Instead, she hugged Keitany before accepting the medal and said, "This is the moment I've dreamed off since I was a little girl," according to the New York Daily News. Flanagan definitely had her eye on Keitany for the whole race. She said ahead of time that her opponent was an "alpha racer" and that she was going to "suffer dearly" while trying to keep up with the Kenyan great.
She told Let's Run in an interview earlier this month that she was "very much motivated every day thinking about those two women" and how she could "possibly beat them" while she trained. "You know on paper, it looks like a really huge task. But as you know, I have beaten both of them at various times and so I take confidence in that," Flanagan told the site.
The 36-year-old is a Massachussetts native and longtime athlete. In addition to running, she's also great at swimming and soccer. She's married to fellow track and field champ Steven Ashley Edwards. Running runs in her family, too. Her mom is Cheryl Treworgy, who set the record for marathons in 1971. Treworgy also ran the U.S. World Cross Country Championship five times.
Her mom told Runner's World back in 2012 that her daughter's best trait was her "determination." She said:
She's really driven. I think running gives her, as it does a lot of girls, a sense of power about what they can achieve in a society that doesn't always offer that. She understands that in running she has a chance to attain her dreams.
Shalane and her mom are obviously really close. Treworgy said that back at the 2008 Beijing Olympics, she used her magical mom powers to communicate with her daughter during the race. "I was yelling at Shalane like any mother would, even though I knew she couldn't hear me. As I watched her move up into third — it's hard to describe, but I think I was in a kind of shock," she told Runner's World. But then a crazy thing happened. Treworgy told the magazine:
Then somehow she heard me during her victory lap. She had no idea where I was sitting, but she spotted me, and climbed through the photographers' moat, and up into the stands, and gave me a hug. I felt honored to share the moment with her. It was unbelievably special.
Treworgy didn't say if she was in New York cheering her daughter on this time, but she did tweet that that she was proud of her daughter's courage. The two will have a lot to celebrate when they get together.
Watch Romper's new video series, Romper's Doula Diaries:
Check out the entire Romper's Doula Diaries series and other videos on Facebook and the Bustle app across Apple TV, Roku, and Amazon Fire TV.