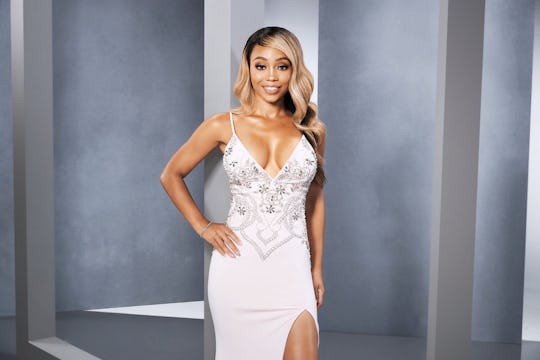 Alex Martinez/Bravo
Shamari DeVoe Is Stirring Things Up On 'RHOA' Season 11
Two new women are joining the cast of The Real Housewives of Atlanta in Season 11, bringing fresh perspectives to all the familiar drama. One new cast member is Eva Marcille, of America's Next Top Model fame, while the other is Shamari DeVoe. But who is Shamari DeVoe?
Shamari's bio on the Bravo wesbite states that she is "no stranger to the lime-light," both because of her own musical career and that of her husband. She was previously part of the R&B-pop trio Blaque and also appeared in Bring It On as Lava, while her husband Ronnie DeVoe was part of New Edition and Bell Biv DeVoe. Shamari was born in Detroit but raised in Atlanta, where she still lives with her family, which includes twin sons Ronald and Roman. In her bio, Shamari states that as a "devoted wife, super mom, and businesswoman," she is "reinventing the term 'Triple Threat.'"
Shamari and Eva will be stirring things up with returning Housewives Cynthia Bailey, Kandi Burruss, Nene Leakes, and Porsha Williams. And it seems like Shamari is prepared to make an impression. In the trailer for Season 11, she's referred to as a "wild card" and seems to get into a dinner table confrontation with Nene, so it'll be an eventful season.
According to Bravo, Shamari still performs alongside her Blaque group member Brandi Williams when she's not acting as a "marriage ambassador" with Ronnie. They are both quite committed to staying together for a long haul, even hosting annual Marriage 4 Life walks to provide help to other couples. During the walks, couples hold hands and talk for a full mile to and from their destination, which Shamari described as a life-changing experience on her Instagram.
In an introductory video for Bravo, Shamari let viewers know what to expect from her (and the show in general) in the upcoming season. They'll be meeting her 14-month old twins, who "are keeping mommy and daddy busy." She hinted at an upcoming project she's working on with Ronnie called Me and Mari; she didn't explain exactly what it would be, though it would be music-related. She will be appearing in Kandi's variety show "Welcome to the Dungeon," too. Shamari concluded by saying that she was excited about her life, career, and family — as well as letting audiences in on everything she was up to.
During a conversation with The Grio, Shamari explained what led her to join the show in the first place:
I felt like it was time for the world to know who I am as a marriage ambassador and a recording artist and a family woman. It was time for a change and I decided this was a great opportunity. Of course you have some reservations but sometimes you just have to go out and look at the bigger picture. The world will get to see my family and hear my testimony.
The eleventh season of RHOA premieres on Nov. 4, giving fans the chance to get to know Shamari themselves.