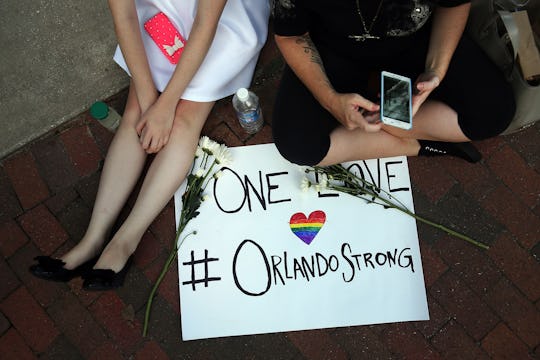 Spencer Platt/Getty Images News/Getty Images
Who Is Shane Evan Tomlinson? The Orlando Victim Was A Talented Musician
Just a few hours before he became a victim of the United States' deadliest mass shooting on June 12, Shane Evan Tomlinson, 33, was putting on a show at a different nightclub with his band Frequency. On Saturday night, Tomlinson and his cover band took the stage at Blue Martini nightclub, where they frequently performed, before he headed to Pulse, the nightclub where he was one of 49 people who tragically lost their lives early Sunday morning.
According to Fox, Tomlinson was an East Carolina University graduate who studied communications and business administration. The North Carolina native went on to pursue a singing career, working with Soul Kamotion Ent., Chrome Talent, and Boomers Band before becoming Frequency's manager and lead singer, according to his LinkedIn profile. Videos of Frequency's performances show Tomlinson as an enthusiastic, energetic singer who spent his time on stage dancing constantly and keeping crowds' energy up.
In an email to The Orlando Sentinel, Dennis Bailey, president of the management firm Frequency worked with, wrote:
Not only was he a great person, he was a tremendous talent, a role model for all in the music business. Someone who strived to be the best and made everyone around him better.
D. Bailey Management also posted a message on Facebook after the tragedy, writing, "Shane touched the lives of so many people and it shows. We ask that during this time you allow us to take the time we need with family and we will update everyone as soon as we can. We need to come together during this time and support one another."
Frequency's latest Facebook post took place on June 10, inviting people to their show the next day at Blue Martini, which was Tomlinson's last. Since then, their social media has received an outpouring of support and heartbreaking messages. Musician Alvin L. Giles wrote:
The first time I met Shane Tomlinson was when we started Frequency Band at my house. We had a meeting in my driveway with the members at the time... Shane said he could take the band to the top of the scene (which is cheap talk from anyone else) and that's exactly what he did. Shane was a funny, charismatic leader with business acumen, vision, and talent as made evident by the heights he took frequency to. The orlando music scene was robbed of one of its bright and upcoming stars! My heart goes out to his friends, family, and the current frequency roster. RIP Shane.
In an interview with CNN, Tomlinson's father, Steve, said the family was still grappling with many questions. "What happened, why it happened, and could it have been avoided?" he said. "That's what keeps running through my mind." Tomlinson's mother said she worried about arranging services for her son "because he was gay. Because of how some churches feel about the gay community."
According to The Orlando Sentinel, an unofficial tribute concert will take place at Lafayette's Orlando on June 20. A GoFundMe page has been created by Tomlinson's family to help them fund celebration of life services. Those interested can donate to the family on Tomlinson's GoFundMe page.