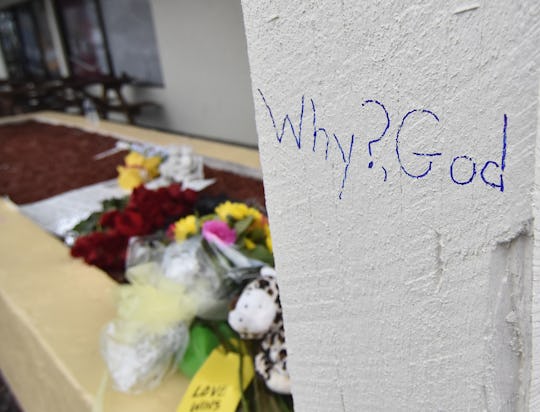 GASTON DE CARDENAS/AFP/Getty Images
Who Is Shawn Archilles? A Young Man With A Contagious Smile Who Loved Basketball
A teen event at a night club in Fort Myers, Florida ended in gunfire last night, wounding at least a dozen and killing two. Among the victims, 18-year-old Ste'fan Strawder and 14-year-old Shawn Archilles. Both teens were leaving Club Blu Bar and Grill just after midnight, waiting to be picked up by their parents, when shots were fired. Police responded to the scene, as well as two other nearby locations.
As of 9:00 a.m. Eastern Standard Time, the Fort Myers police department has not provided any information about the suspect, but it has stated it does not believe this shooting to be an act of terror.
Jean Robert Archilles, father of 14-year-old Shawn Archilles, spoke to reporters outside the Archilles' home in Fort Myers early Tuesday morning, saying that he had received a phone call from Shawn's mother around 1 a.m., stating that his son was dead. He then received a call from the police who said simply, "Sorry to hear that your son passed away."
"I don't [know] what like [sic] a 14-year-old can do to somebody. . ." Shawn's father told reporters as he struggled to understand why his son had been killed, "Some of his friends got shot, too."
Shawn was an eighth grader at Royal Palm Exceptional School, which serves just 144 students Pre-K through 12th grade. Jean Robert said that his son was an athlete, and he loved playing basketball. The school's principal, Robert Morretti, said Shawn was "the kind of young man who could brighten any room with his outgoing personality and contagious smile," and that he will be deeply missed by his friends and teachers at Royal Palm.
How You Can Help
A fund has already been set up for the families of the Fort Myers shooting victims.
"There has already been a tremendous outpouring to our City from across the country sharing their thoughts and prayers and wanting to know how they can help," said Fort Myers Mayor Randall P. Henderson, Jr., according to a statement. "We hope people will help their neighbors in this time of need."
The call for thoughts and prayers comes just a little more than a month after the shooting at Pulse nightclub in Orlando; the deadliest mass shooting in U.S. history, and the deadliest terror attack in the U.S. since 9/11.