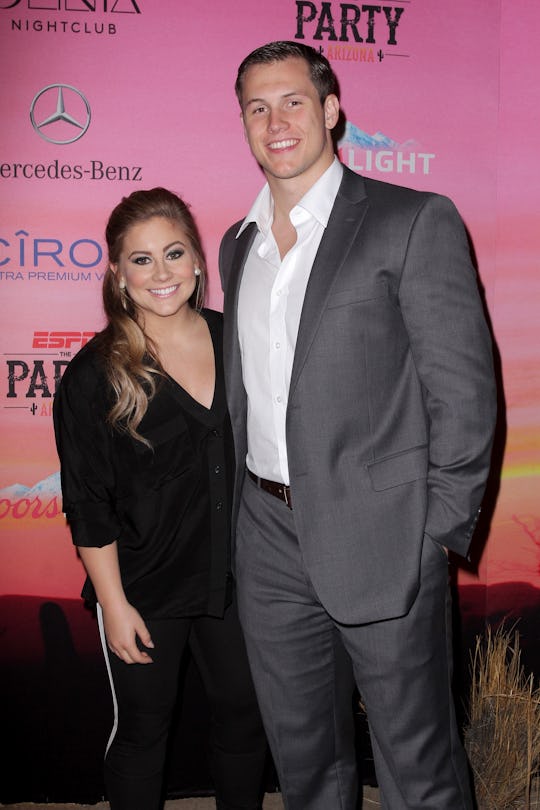 John Parra/Getty Images Entertainment/Getty Images
Who Is Shawn Johnson's Husband? The Olympic Gold Medalist Just Got Hitched
During the 2008 Summer Olympics, Shawn Johnson was, without a doubt, America's Sweetheart. The small and petite gymnast was super bubbly, likable, and talented, which basically made her the best kind of a triple threat. Who could forget the moment when Johnson won the Gold Medal for balance beam? And the upset when the United States gymnasts took silver for their performance as a team? It has been eight years since the summer olympics and America's Sweetheart has grown up as she finally got married on Saturday. But, who is Shawn Johnson's husband?
According People, Johnson and her husband, Andrew East got married at a private farm in an outdoor, "private and relaxed" ceremony in Tennessee. The couple met three years ago through East's brother, who is also an athlete like Johnson and East. East proposed to Johnson last summer, popping the question at a Chicago Cubs baseball game, right on the field before the game started.
"I've found my guy," Johnson told People. "And he's my best friend, so making it official is exciting."
So who is Johnson's guy? Turns out, her husband is just as talented as she is and judging from his social media accounts, seems like a pretty great guy.
He plays for the NFL
East, at only 24 years old, is actually a professional football player. After graduating from Vanderbilt University, where he played football, East was signed on by the Kansas City Chiefs to play for them as a Long Snapper in May 2015. East recently announced on his Instagram just last week that he would be signing on with the Oakland Raiders to play in their 2016-2017 football season.
He is educated
East puts the stereotype of athletes not being smart to shame. East attended Vanderbilt University in Tennessee for his undergraduate and graduate degrees, while playing football for the university as well. In May 2015 he graduated from Vanderbilt with a Masters of Business Administration — the boy has got some brains, too.
He isn't afraid to put himself out there and have fun
Did you know that Shawn Johnson has a pretty active Youtube channel? Both Johnson and East post dozens of videos on their channel spanning from vlogging their bachelor and bachelorette parties to answering questions about their wedding, to doing fun Youtube challenges, like the AcroYoga challenge. The video above shows that he isn't afraid to put himself out there for all of Youtube to see and try something new. Plus, it also shows that the couple is super happy together and gives a nice glimpse into two celebrity athletes lives.
Family is important to him
From his social media accounts, you can tell that family is one of the most important things to East. There are many different photos of East with his family on his Instagram account and you can tell that he is a family guy — important, especially when it comes to marrying someone.
He is madly in love with Johnson
Well, I mean, that is a given. But East is special because he isn't afraid to be public about it or hide things from fans. East had been counting down the days to the wedding on his Instagram account — super adorable. From the way he looks at Johnson, you can tell that he is madly in love with her and I can really admire him for that.
It seems like Johnson and East are incredibly happy together and he seems like a terrific guy. America's sweetheart might have snagged herself America's sweetest husband.